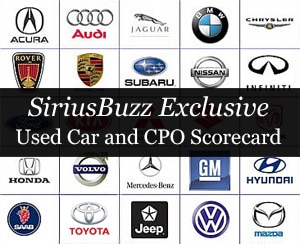 The SiriusBuzz Used Car and Certified Pre-Owned (CPO) report was implemented to track and monitor satellite radio penetration and used car market inventory levels so that investors have a gauge of what is happening in the market. We began tracking this information two months ago, and so far the levels have remained pretty constant with slight fluctuation in either direction. The exception seemed to be the big auto sales month in May when inventory levels in the used car market saw a big drop likely due to buyers stepping up and making a purchase in both the new and used car arena.
So far in July, things have been slow and steady in terms of the used car data. From a new car perspective it looks like we can expect SAAR to remain above 11 million, but will not be as high as the peak of 11.6 million that May delivered. The trends in used cars and new cars are about the same. If new cars are selling used cars are as well. If they are not, then the used car market also suffers. Part of what is impacting the recovery is the economy and the credit markets. The auto industry was successful in avoiding inclusion in the Financial Regulatory Reform which proposed that auto loans have some government oversight. On its face this news meant business as usual for car dealers trying to sell cars. The industry avoided inclusion because the credit market for cars has a very good record with less than 1% defaulting on their loans. The bad news is that fewer than 9% of sub-prime borrowers are successful in getting financing, down from historic levels of 60%. Until this changes, auto sales will on a pace of about 11.5 million for 2010.
For July 20, 2010 Vehix.com had a used car inventory of 384,487 used cars with 16.66% being equipped with satellite radio. The CPO cars held by Vehix include 31,036 vehicles with 19.61% being equipped with satellite radio. Levels at Vehix are in the now familiar ranges we have seen in terms of inventory as well as satellite radio penetration.
The data from CarMax is similar as well, but their inventories are slightly lower than the norm. This could indicate that used car sales are slightly more brisk than normal, but it could also be an indication that the auto auctions are carrying fewer cars. With 26,627 used cars in stock, the company is within ranges we have seen over the past two months. The satellite radio penetration was 35.33%.
One burning question SIRI investors have is how substantial the used car market was in terms of contributing to the 583,000 subscribers the company added in Q2. In my opinion there was a slight boost due to the numbers in May, but overall, the used car and CPO market is tracking as it always has. Sirius XM has never broken down the data for the used car or CPO market. The market will continue to grow over time, but a big boost in one quarter is an unlikely situation. The big boost is more a function of a great improvement in churn as well as a boost in the new car take rate.
Look for auto sales in July to be stable. No record months as yet, but it is only the first month of the second half of 2010.
Position - Long Sirius XM Radio