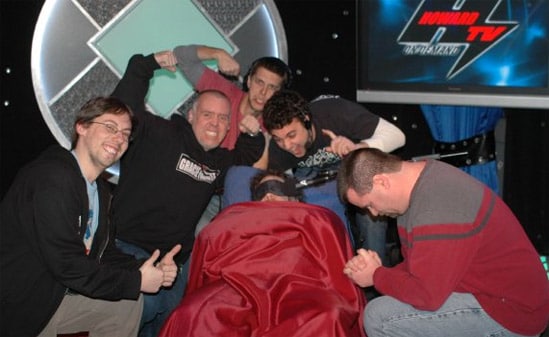 Waiting for the FCC decision on the merger has been filled with anticipation and frustration. Over a year has passed since the merger announcement. The public filings with the FCC have been substantial. Sirius and XM have had meeting after meeting with regulators, and sentiment has almost gotten to the point where people simply want an announcement. Even Artie Lange of the Howard Stern Show has grown tired of waiting.
Artie Lange is so tired of all of the waiting, that he decided to take a nap live on this mornings Howard Stern Show.
Actually, Artie's nap had nothing to do with the merger wait. The man was simply tired, and at the suggestion of Howard decided to take a nap on the show. The bit turned into humor at Artie's expense. They aired his snoring, and marveled at the fact that when Artie fell out of the bed, he did not even miss a wink of sleep.
Not to be left out, Stern even managed to use Artie's sleeping to aggravate Riley Martin, who has one show left on his "contract" with Sirius. To Riley Martins frustration, Stern noted that, "Artie is making more money in his sleep than you are making with your show." Martin, ever the complainer about the dollars he makes on his weekly show, noted that he simply wants to get a reasonable compensation for his show, noting that an extra 6 pack would not break the bank.
So here we are......no real news on SDARS, Artie Lang sleeping on the Stern show, Riley Martin hoping that merger synergies may break loose a few nickels from Sirius' program Director Tim Sabien, and investors waiting on the FCC to make any type of decision.
Words of advice......Investors are tired at this point, and perhaps longing for the opportunity to "take a nap" much like Artie Lange. The problem is that everyone has this sneaking feeling that the second they rest their eyes, all of the action will happen without them. SLEEP LIGHTLY.
Catch Sirius Buzz Radio This Thursday at 10:30 PM EST
Position - Long Sirius, Long XM