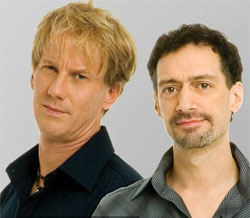 It was just two days ago when Opie & Anthony's Facebook page stated, "It's Monday tomorrow…. FYI 4 shows left in contract. We're still talking and trying to work something out…peace!" The contract negotiations between Sirius XM and Opie & Anthony has now moved into the eleventh hour and fans are all wondering what will happen with what is an important cog in the Sirius XM content advantage.
Today XM Radio sent out promotional e-mails letting subscribers know that there are only 3 days left on the one month free program as it relates to the Opie & Anthony EVERYWHERE promotion. Could this be a hint that Opie & Anthony will be remaining at Sirius XM? After all, it does not make sense to promote one month of content that may not be available in only three more days.
Opie & Anthony are much more important to Sirius XM than most realize. They are uinique content that carries a loyal fan base. They have cache and by being on Sirius XM make satellite something special. Fans want the show, Opie & Anthony want to remain, and Sirius XM needs them. It is time to get down to business and announce that Opie & Anthony will remain on Sirius XM for the foreseeable future.
You can catch Opie & Anthony On XM 202.
Position – Long Sirius XM