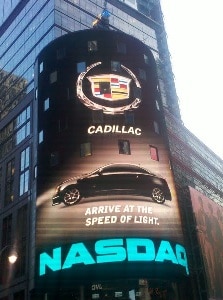 North Shore Animal League America, the world's largest no-kill animal rescue and adoption organization, President J. John Stevenson, its national spokesperson Beth Stern and Sirius XM CEO Mel Karmazin will ring the NASDAQ Closing Bell on Wednesday, January 12, 2011 at 4 p.m. ET.
The event will recognize the Animal League's "Taking Stock for the Animals," an initiative which celebrates and encourages corporate partners and individual supporters to consider a donation, including those in the form of stock, to save animals' lives.
"We wanted to take this opportunity to thank all of the corporations and philanthropists whose generosity has helped to save the lives of countless animals," said North Shore Animal League America's President J. John Stevenson. "No one better represents this spirit of giving than Mel Karmazin."
For his part, Karmazin has quietly been a major philanthropist support various causes for many years. The Sirius XM Satellite Radio CEO uses his influence not only in business deals, but also to help worth while causes. Among the major support Karmazin offers are autism awareness and the North Shore Animal League.
"The Animal League has done a great job of raising public awareness about the need and value of animal rescue and adoption, and by directly helping save the lives of so many animals," Karmazin said. "I hope others will also consider supporting the Animal League in its valuable work and initiatives."
Beth Stern, the national spokesperson for the North Shore Animal League and wife of Sirius XM personality Howard Stern, has been very outspoken about the Animal cause and has even adopted and taken care of pets herself.
"I have been the proud spokesperson for the Animal League for over five years now and have witnessed first hand the incredible work that they do," said Beth Stern, North Shore Animal League America spokesperson. "I am grateful to Mel and all of our donors for helping save these incredible creatures."
An estimated 8-10 million animals enter shelters annually in the United States, and sadly nearly 4 million are unnecessarily euthanized due to lack of space. As the world's largest no-kill animal rescue and adoption organization, North Shore Animal League America provides desperately needed assistance to shelters across the country. In addition, the Animal League has developed an innovative school curriculum, The Mutt-i-gree-s® Curriculum, that teaches children social and emotional skills, and helps raise awareness of the wonderful dogs, cats, puppies and kittens available at a shelter. By educating the next generation, the Animal League hopes to directly address and reduce euthanasia by increasing shelter adoptions.
Karmazin, president of the Mel Karmazin Foundation and Sirius XM CEO, has been one of the organization's strongest advocates. Since 2005, the Karmazin Foundation has funded various programs which have helped to save the lives of thousands of shelter pets in need. In addition, Sirius XM has provided a great platform for the Animal League to communicate the message to adopt a shelter pet.
For more information on the Animal League please visit: AnimalLeague.org, and for information on how you or your company can donate to the Animal League, please contact Debra Randazzo (516) 883-7900.
Position - Long Sirius XM Radio