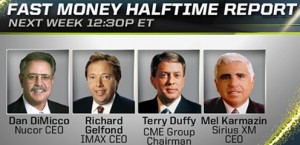 Sirius XM CEO Mel Karmazin will be appearing on CNBC's Fast Money's Halftime next week, just one day before the Russell Index announces the preliminary additions and deletions list on June 11th. The bonus for investors is that the popular Fast Money Halftime show has been boosted from 15 minutes to a full half hour.
Karmazin will be on the show along with Top tech analyst Mark Mahaney. If you cant be in front of the television at 12:30, no worries. Immediately after the show CNBC provides a written Recap as well as video clips of the program right on their website.
While there may not be any major announcements, it is always good to have the CEO drumming up company exposure. Especially in front of the Russell reconstitution.
Thanks Boomer
Position - Long Sirius XM Radio