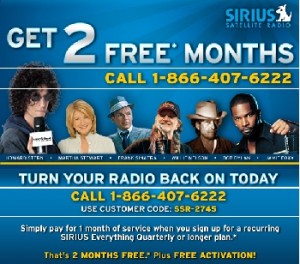 Sirius XM Radio has every kind of content you can imagine. There is something for everyone, and Sirius XM wants to give listeners the opportunity to experience just that. The company wants to turn on listeners. No, I am not referring to Howard Stern, the Cosmo Channel, or Playboy Radio. I am literally referring to a campaign designed to woo all of those unused radios into giving the service a try.
The company is sending out emails with the offer of two free months of service and free activation when you pay for one month and agree to a quarterly or longer plan with automatic renewal (a-la-carte and lifetime plans excluded). This program has been running for some time in an effort to convert former subscribers int self paying subscribers once again. The timing of this program comes in the midst of Sirius XM's two free weeks for all deactivated radios a story which was first published by Satellite Radio Playground.
Clearly the company is stepping up marketing efforts to those that have enjoyed satellite radio at some point in the past. The economy is still down, but these continued efforts by Sirius XM are well worth it. The key is remaining relevant in the minds of people, and keeping them informed. The financial incentives, such as two free months, help the company appeal to the more budget conscious consumer.
If you are interested in taking advantage of this simply use offer code SSR-2745.
Position – Long Sirius XM Radio