Sirius XM Radio has announced updates for their Internet radio apps running on the Apple platform. Included are the apps for iPod, iPhone, and the iPad. The updates deliver the same great content Sirius XM is known for and know have an improved user experience with album artwork and artist biographies.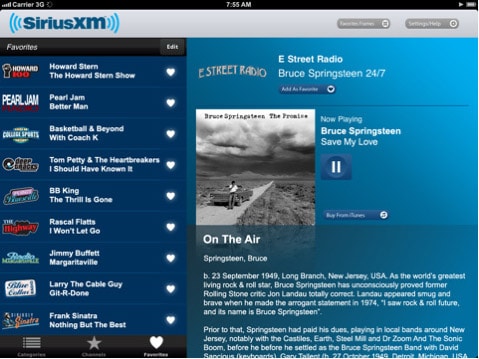 In effect, the new feature of art and bios brings the visual experience up to par with services like Slacker that have had this feature for quite some time. While there is still no customization of channels and songs, features such as this may become available with satellite radio 2.0.
Listeners will also be pleased to know that technical updates included in the SiriusXM Internet Radio App improve audio quality and performance on cellular networks.
In addition, the new SiriusXM Internet Radio App for the iPad, iPhone and iPod touch also allows consumers to:
Listen to over 120 channels of SiriusXM Internet Radio and multi-task on the go, even while surfing the web or checking email.
"Lookaround" to see what is playing on other channels while enjoying the song currently playing. On the iPad, the app features a full-screen display showing currently playing album art and program information for your favorite channels.
Easily and quickly purchase music available from iTunes heard on SiriusXM, or add favorite songs to the shopping cart integrated into the App, by tagging them for later purchase.
Save favorite SiriusXM Internet Radio channels for easy access through a "Favorites Channels" function.
Position – Long Sirius XM Radio