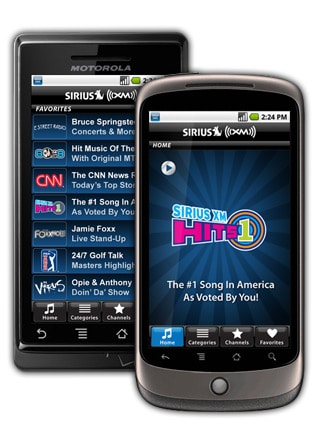 Consumers had to wait far too long for this, but at least it is done. Sirius XM Radio has updated their Android app. Consumers who submitted their email were notified yesterday that the app update was available. As an Android user it was rather frustrating to see the app not working for over a month. Getting that email yesterday was a good way to start the weekend.
Even with a the app working again, the news is not all good. I happen to use Skyfire, a popular browser for Android users, and was unable to download the app. After trying to download I would get an error message. I tried renaming the file with no luck. For my fourth attempt I switched to the default browser and was successful. I do not know if people that use other popular browsers like Dolphin or Opera had the same issue, but it is quite possible. There is an easy solution, and why Sirius XM does not do it is beyond explanation. The company needs to get the app into the Android Marketplace.
Sirius XM advertises the android app on several bumpers across their channel line-up. The average person does not even know where to go to download it. The average person seeks out apps in one and only one place. The App Marketplace on their phone. It is great that Sirius XM finally updated their app, but until they get it into the marketplace the mission is not complete.
Position - Long Sirius XM Radio