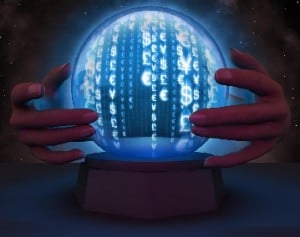 Daily technical reports are always available to SiriusBuzz Premium Members, but today was an important day,  so I made the decision to open this article up for everyone. SiriusBuzz Premium members have been clued into the warning signs of an event like today so, if you have not yet considered joining SiriusBuzz Premium, maybe now is time give it a test drive.
What we saw today was a technical move that happened on volume.  It was a move that quite frankly should have happened a couple of weeks ago, but was averted thanks to Liberty Media buying up substantial numbers of shares on the open market.  In last evenings technical report I made special note that while SiriusXM finished the day strong, it spent a big chunk of the day trading at $2.47, which was below support.  It did that with volume, and confirmed a signal that a downward move would happen.  The one wild card was SiriusXM CEO Mel Karmazin bringing something to the table that was positive.  That did not really happen, and thus the equity closed at $2.42.
As I have stated many times, some signals in technical analysis are subtle and build over time.  That is what has been happening with SiriusXM.  It is why watching these technicals closely is so important.  If you are serious about this equity, you need to be serious about your research.

Volume 
As I have indicated many times in the past, volume is an easy technical indicator that can help an investor determine several things.  In and of itself volume may not seem that critical.  However, if you combine it with other analysis you can begin to paint a picture.  Today SiriusXM made a sharp move down on heavy volume.  The action today was preceded by a heavy volume day yesterday.  Of particular note should be that the volume today was heavier than yesterday.  It should also be noted that the move was more stark and pronounced.

When an equity makes a move on high volume it demonstrates that there is commitment behind that move.  Today's downward turn demonstrated commitment and momentum.  SiriusXM is moving down to lower levels on progressively higher volume.  That is not a good thing.  What we want to look for is the next level of support and the volume SiriusXM trades at tomorrow.  If the equity continues to move down on higher volume, the drop is not done.  If volume lightens up, there is less conviction behind the move, and the downward pressure may be abating.
Support and Resistance
Here is some real meat and potatoes.  SiriusXM is pretty much right in the middle of strong support and strong resistance.  To the downside we have strong support at $2.27. To the upside, strong resistance rests at $2.50.  There are a few key elements to observe here.  A week ago we were looking at the next leg up as getting past $2.56 and it was only a few cents away, but trading in a narrow range and letting off bearish near term signals (SiriusBuzz Premium members saw these reports).  Now the next leg up is 8 cents away, and is even stronger than the one that was at $2.56.  essentially, a near term price target of $2.75 would need news compelling enough and carrying enough energy just to pass $2.50.  On the flip side, SiriusXM is now trending down, and the next real support is at $2.27. We never want to ignore the trend.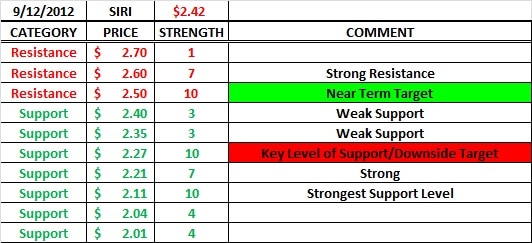 As you can see by the chart, SiriusXM is in a virtual no mans land. This could be the establishment of a new trading range that is wider, or we could see the correction continue.  Tomorrow is another day, and we will have new data to digest.  For the moment I see the trend pointing down, and weak support below.  I am still a bit hesitant to blow off the weak support at $2.35, but if I had to assign a near term target it would be $2.27.  That does not mean that the overall story of SiriusXM has changed.  I still feel that a 1 year price target of $3.25 is reasonable.  This equity simply needs some new guidance from the company for the street to digest and believe in.
Exponential Moving Averages – EMA's 
As I have been warning SiriusBuzz Premium members for about a week now, the bullish signals seen in the EMA's have been weakening and were getting more and more likely to start showing bearish signals.  Today we got that confirmation as the near term signal went bearish for the first time in quite some time.  The key with EMA's is that the 5 day average wants to be above all other averages.  Then you want the 13 day average to be above all subsequent average.  The same with the 20 day average.

Today we saw the closing price drop below the 5, 13, and 20 day average.  This threw up three caution flags.  We also saw the 5 day fall to below the 13 day.  This threw up the first danger flag.  As you can see, this equity was dangerously close to throwing up a second warning flag at the 5 vs. 13 day EMA.  I have told readers that once one domino falls, dominoes that are close by will tend to fall.  There is still healthy insulation at the 50 day EMA, which sits at $2.35.  If you recall above, I stated that I was hesitant to give up hope on the weak support at $2.35.  Now you know why.  It also happens to be a pretty well insulated moving average target (albeit not the 200 day average).  This is why looking at several technical indicators can be so helpful.
Summary
I am still bearish in the short term.  I hold out hope for support at $2.35, but the real strength is at $2.27.  As a long term holder I do not really worry here, and what I want to see is volume dry up a bit now to signal the end of a move.  Be cautious in the next couple of days.  SiriusXM could continue a slide.  The key is where it trades and on how much volume.  Stay Tuned.
These types of updates are a regular happening for members of SiriusBuzz premium.  If you want timely updates, frequent analysis, and out of this world coverage consider joining today