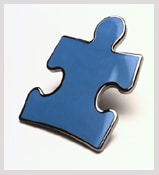 Ever wonder what that little blue puzzle piece is on Mel Karmazin's lapel? It is his way of showing that he supports autism awareness. I myself have one, as do many people across this nation. It is likely that over the last couple of years you have heard more and more about autism. One chief reason is that Mel Karmazin has been instrumental in bringing together various autism groups under a more united front, and lending his expertise to the cause. The issue is important because the odds of a child being diagnosed with autism according to CDC (Centers For Disease Control) about 1 in 110 .
Sirius XM will broadcast Doctor Radio Reports: Understanding Autism, a two-hour live call-in Autism Awareness Month special hosted by veteran journalist Perri Peltz.
On Doctor Radio Reports: Understanding Autism, Peltz and a panel of world-class doctors, experts, and parents of affected children will explore autism and disorders on the autism spectrum from every angle, break down the latest research and treatment options, and take calls from listeners around the country.
Doctor Radio Reports: Understanding Autism will air live April 23 from 10 am – 12 pm ET on Doctor Radio, Sirius ch. 114 and XM ch. 119. It will replay April 23 at 8 pm ET, April 24 at 10 am and 4 pm ET and April 25 at 12 pm and 8 pm ET.
Position - Long Sirius XM Radio - Supporter of Autism Awareness