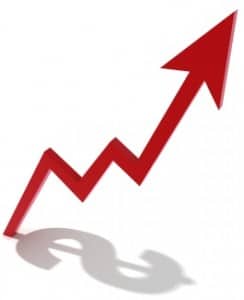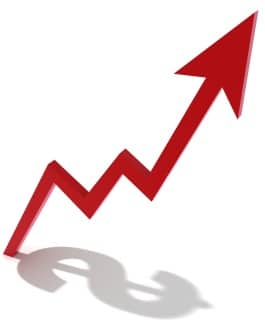 If you are long Sirius XM (NASDAQ:SIRI) stock Friday's action was something that likely put a smile on your face and set you up for a great weekend.  If you are short, you have to be scratching your head and wondering if now is the time to cover before it's to late!  Sirius XM exhibited a very strong technical move Friday and toppled what had been a battleground at $2.10.  The best part is that the equity did this on above average volume.  This now means a reset of strategy and another look at my favorite technical indicators.
SUPPORT AND RESISTANCE
There has been some slight change in the support and resistance levels, but the key change is that, at least for now, the battleground that had been $2.10 has been toppled and now $2.10 establishes very strong support.  Sirius XM blew buy a small resistance level at $2.14 showing strength.  For this reason the technical level at $2.14 has been removed setting the stage for the next battle at $2.20 and then $2.26.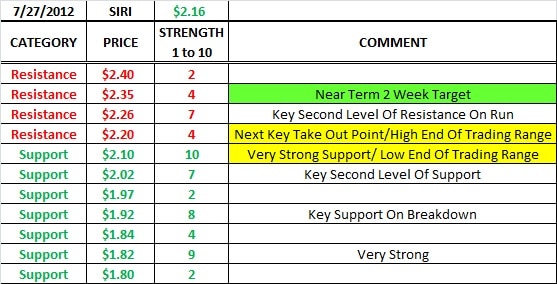 What we have shaping up is a technical run that carries little resistance.  This can mean that Sirius XM could test prices near 52 week highs in short order.  However, there is a macro-economic environment that also needs consideration.  The street seems to be expecting disappointment these days.  Other high profile stocks like Apple and Facebook have not been the shining stars some expected and this can pressure other company's, or at least the sentiment of the marketplace.
I expect Sirius XM to have a good quarterly call, but perhaps not many on the street are finding positive speculation endearing these days.   For this reason $2.26 could be the high end of the near term trading with a decent chance of a run to $2.35.  Here is the key.  If Sirius XM can run past $2.26 on decent volume prior to the call, then we can see a quick run above on good news.  We will enjoy a decent run here, it is just a question of where it starts to consolidate again.  With that in mind I am placing a $2.35 target on Sirius XM with expectations that it will settle down to $2.26 again to consolidate.
EXPONENTIAL MOVING AVERAGES
Things are looking good on the EMA front as well.  Right now all signals are bullish and the 5, 13, 20, and 50 day averages all have decent spreads with some wiggle room built in.  The key now is maintaining the bullish stance  We want to see Sirius XM close above $2.11 to maintain the current spreads and above $2.16 to continue a healthy spread.  The great news is that the key $2.11 level is above the Support and Resistance level of $2.10.  This translates to a strong likelihood that Sirius XM can maintain and even build on the bullish stance that has been building for quite some time.

SUMMARY
I have been calling for a bullish stance since Sirius XM was down below $2.00.  The risk side has been getting smaller and smaller, which is a very positive development.  The risk of breaking down below $2.00 seems to evaporate more and more each day. Readers here have had a substantial advantage because of a well laid out assessment of the upside and downside.  Frequent traders have been able to enjoy the swings, while longer term holders have been able to establish confidence levels in their position.  The next key is $2.20 with a near term goal of $2.35.  Currently I see $2.26 as a future consolidation point.
MEET AND GREET 
With the earnings call approaching, and because I am in New York City quite a bit these days, I thought it would be an opportune time to set up a casual Meet and Greet where we investors can get together, discuss the markets and shoot a little pool.  I will be at Slate in New York City on Wednesday, August 1, 2012 at 7:00 PM.  The venue has pool tables on the lower level, and that will be a great place to meet up.  If you are in the New York area, why not stop by and enjoy an evening of Sirius XM discussion!  If you are interested, want more information, or planning to attend, please send an e-mail to satellitestandard@gmail.com.