Technically speaking things look very bullish for SiriusXM at the moment.  The Q3 call is complete, the financials are strong, and the outlook is good.  From a company standpoint there is little to be concerned about.  Things are pointing up, but there is a need to have a little caution as well.  Early in the day I had indicated that the market reaction to the call today would be tepid.  Well, that is just what we got.
The concern and caution is not company based, but rather technically based.  As readers know, I follow several technical indicators.  One indicator I love to watch is Exponential Moving Averages.  What we are seeing here is the gaps between the successive averages getting tighter.  When that happens it is usually an indicator that the equity will make a dynamic move one direction or the other.  Predicting the direction of such a move requires close monitoring.  It is also the point in time when an equity is particularly sensitive to news.
Prior to Sandy SiriusXM was trading at about $2.90.  The trading after the storm saw this equity testing $2.80.  We all should agree that the numbers in the call were good.  The equity is still trading at pre-Sandy levels...testing lower, and ranging higher  If the call was good, and things are positive yet the stock does not rise, it would seem to indicate that the good quarter was already baked into the price.  Hopefully this make sense.
If we consider that good performance is baked in, then expecting a run up becomes more unlikely.  Without solid guidance issued from Mel Karmazin, we see a valuation conundrum.  Is it realistic to carry a valuation multiple of 25, or is 20 the correct number?  Currently the equity is at a multiple of about 25 on 2012 guidance.
  Volume
We saw heavy volume today.  This was good in that it helps to establish support at current levels.  The current "danger zone" is essentially up to $2.80, where the equity happened to close.   The potential peak point right now rests at about $3.05.  We will need to see how the equity absorbs this conference call before jumping to any conclusions.

What we want to see is volume at or above 65 million shares and a sideways consolidation.  Moves down on volume above 65 million could mean a test to the 20 day average or below.  There is no real worry in this type of action, as these levels are just below current trading levels.
Support and Resistance
The support and resistance looks good.  We are seeing a trading range develop that is a bit wider than we have seen in recent days.  We have little strength at any area where we are currently trading.  This is why we want to see some consolidation and strength building.  Watch the $2.80 level closely as well as $2.90.  The equity did test above $2.95 today, but even with heavy volume retreated off of it.  Bear that in mind.  It will take substantial volume or substantial news to challenge the $2.95 to $3.00 area.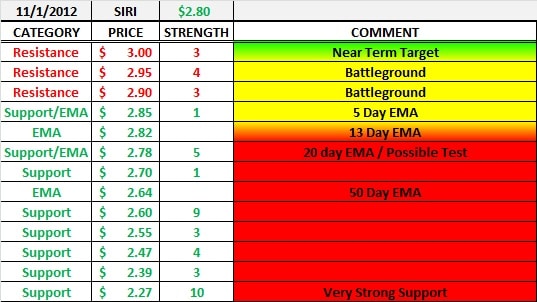 Exponential Moving Averages - EMA's
As I mentioned above, these averages are tightening up.  When this happens it is like a coil.  There will be a reaction to one direction or another.  When an equity is in this mode it becomes harder to trade it with any courage.
What we want to see is SiriusXM consolidate a bit and narrow the gaps to a couple of cents so that we can shake out the move (up or down).   This would be healthy and would help establish an indication of direction.  If I had to guess I would say that SiriusXM will spend tomorrows session knocking on the door of $2.80 a couple of times before deciding whether to retreat to the $2.70 or run to $2.90 over the next couple of sessions.  Perhaps the best thing we have is the weekend coming up.