The technical story on Sirius XM (NASDAQ:SIRI) is once again changing with an overall bullish theme continuing to rule the day.  Ever since I made the decision to write more often about the technical side of this equity I have received a lot of email thanking me for my efforts.  I want to take a moment to thank you the reader for choosing SiriusBuzz as one of the resources you rely on not only for investment news, but the news of the company as well.  Thank You.
After the close last Friday I penned a piece that outlined the formation of a new battleground at $2.20.  As it turns out that is exactly what has happened.  While it is easy to get excited about the run Sirius XM has seen, we must also look beyond price and evaluate the technical indicators.  One of the biggest flaws I see with many technical traders is that they do not update their analysis often enough.  With each passing trading day there is new information to consider, digest, and apply.  Going a week or two without update could leave some important factors out of the equation.  With that being said, here is the latest and greatest update:
VOLUME
The price action on Sirius XM today was impressive.  What was not impressive was the volume.  While Sirius XM continued a reach upward, it did not have serious conviction behind the move.  Volume came in at 32 million shares, a steep 30% discount from the 50 million this equity has seen on average.  Thus, the price is nice, but there were not a lot of people jumping in to get the stock at $2.20.  While not a massive problem, lower than average volume does tell a bigger story.  The story here is that the battleground at $2.20 will be a bit more difficult to topple and hold than some may think.  For me a key element on the technical front is volume. Moving up on lower than average volume indicates to me that the move has some trepidation.  This does not mean that the equity will tumble down.  It simply means there is not a lot of exhibited strength in the most recent move.
SUPPORT & RESISTANCE
The support and resistance levels for Sirius XM remain pretty well unchanged.  Very strong support at $2.10 has inched up to very strong support at $2.11.  This is a positive that longs always like to see.  While it seems minor, getting strong support to get closer to current prices is a good thing.  That 1 penny represents $100 on a 10,000 share investment.  No, it is not massive, but it still counts!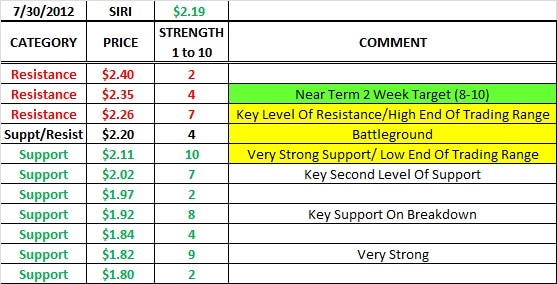 The biggest change is the confirmation of the $2.20 battleground that I spoke of in past articles.  The weaker than normal volume told part of the story, but the support and resistance levels told the rest.  Sirius XM did close at $2.20, so the current strength of that level has been held in check.  Confirmation either above or below $2.20 will determine if we gather a new support level or the battle continues at current levels.  Essentially what we now have is a possible trading range between $2.11 and $2.26.  If Sirius XM can close above $2.20 on higher than average volume we could see the next stage of $2.26 in short order.  Depending on the conviction of that move, the next battleground will be $2.26.  The key is confirmation. This is a "one step at a time" process.
EXPONENTIAL MOVING AVERAGES
With the EMA's things still look quite bullish.  The close at $2.19 provided added strength to each of the EMA averages and has helped to maintain a healthy spread between them.  Essentially there is now a little more wiggle room between a breakdown in an EMA and maintaining the bullish trend.  This bodes well for the longs.

As you can see, the key on the EMA front is now a close above $2.14 to remain bullish.  This is exactly why, as an investor, I consider and reference more than one technical indicator.  If I were to look purely at volume or support and resistance I would miss the fact that Sirius XM has a mini range where it can actually trade down yet remain bullish.  While the preference is to see the price continue to appreciate day after day, consolidation points and ranges are healthy and help to strengthen support levels.  Thus, the key for the next trading session is a close above $2.14 from an EMA standpoint, and a challenge of $2.20 for breaking down resistance.  It will certainly be interesting.
SUMMARY
My short term target of hitting $2.35 by the 10th of August remains in tact, as does my theory that $2.26 will become a consolidation point after that high is reached.  We can be patient about the key level at $2.20.  I feel that Sirius XM can have a few days to pass this level and attempt a run.  Happy trading!