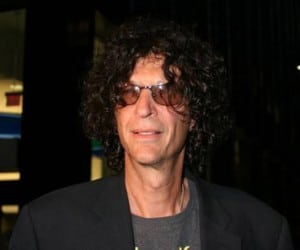 Howard Stern has put his foot in his mouth, and in Sirius XM's response to The King of all Media's latest filings was quick to point that out. The company has finally responded to Howard's allegations that hit news wires a couple of weeks ago.
In a Memorandum of Law in Support of Defendants Motion For Summary Judgement filing submitted this week, Sirius XM took a point by point attack on Stern's case with supporting legal precedence. In his complaint, Howard alleges that the company owes him substantial money because he wants the subscribers from XM counted as part of the qualifications for some hefty bonus payments. Integral to the lawsuit is that he feels the company should not distinguish between the subscribers of the two companies.
In some instances the shock jock even pointed to company press releases where the company appeared to bulk all subscribers together. This evidence could be seen as damning until you look at an instance where Howard himself seems to have put his own foot into his mouth.
It would appear that Stern himself seems to see the two companies as separate based on his own words On December 9, 2010, when his new deal was announced, he stated, "On my first day in satellite radio Sirius had approximately 600,000 subscribers. Today the companies have 20 million" It would appear that he himself separated the two companies.
The latest filing by Sirius XM puts forth an argument at least as strong, if not stronger, than the argument of  Howard Stern. In my opinion the summary judgement will not be granted, but that does not mean Sirius XM will lose. I think there is enough of a discrepancy on both sides for the suit to continue to be argued. Ultimately I think that a settlement will be reached. At stake is several hundred million dollars.
Position - Long Sirius XM Radio