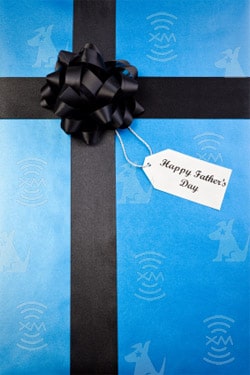 This year Sirius XM has really rolled out the red carpet for Fathers Day with some of their biggest deals yet. So, what more reason do you need to finally get Dad a gift he will truly thank you for? Can you honestly think of a better way to get more value for your money on Fathers Day?
Now is the time and Sirius XM is the perfect gift so, do yourself a favor and put a smile on the old mans face this year.
Not a big fan of Dad? Lucky for you, Sirius XM doesn't judge, there is nothing about this promotion that says you can't go ahead and just treat yourself to a new piece of hardware anyway.
All orders over $50, for today only, will include FREE shipping that is guaranteed to get your gift there on time.
Save $30 on a Starmate 5 with car kit
Save $55 on a Sportster 5 with car kit
Save $100 on a Stiletto2 radio with car or home kit
Save $149 on an Xmp3 radio with home and car kit
Save $90 on the MiRGE Interoperable Radio with car kit