First of all Happy Holidays to all.  A few quick notes on the coming week.  I will be traveling all day tomorrow so I will not be updating during the day.  I am on a mini vacation of sorts through January 2, 2013.  I will post technical updates, but instead of shortly after the market close they will be later in the evening.  Be sure to check back frequently or use our email alert system to advise you of posts.  While I will be catching up with family and friends, I will still monitor the equity throughout the trading days, but if I post it will likely be from my cell, so the posts will likely be brief.
Today we saw light volume that would be expected during a holiday week.  The equity traded in a pretty narrow range and gave up a couple of pennies toward the close.  I initiated a mock trade of a 250 share buy at $2.92.  While this buy may have been premature, I feel okay in that I am bullish this equity in the longer term.  Despite a caution flag that arose, I feel the longer term is safe, and I am expecting the company to announce subscriber numbers sometime shortly after the new year.  Interim CEO James Meyer needs to put his fingerprint on this company and that should be a grand opportunity to do so.
Volume
As indicated above, volume was a very light 18 million shares.  In many ways we have to give less weight to the the volume on a holiday week because people are simply not trading.  It will all average out anyway as time passes.  One trick with these types of holiday weeks is to understand that volatility can exist.  Just be aware of that.  Normalized trading will not happen until after New Years.

Support and Resistance
There are some interesting dynamics setting up here.  The support levels are actually moving downward a bit, though I do not expect that to remain the case.  Currently support @ $2.84 has dipped to $2.83 and support at $2.74 has moved down to $2.73.   Obviously the level at $2.95 is now resistance seeing that the equity closed at $2.93.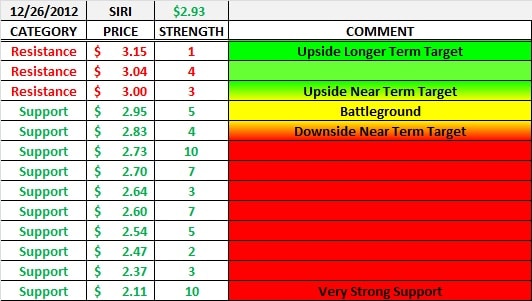 Key levels are $2.90 and $2.95.  Watch the volume closely here.  There is, at least temporarily, some weakness in the $2.80's which is my target for a buy on my Level 2 over core position.
Exponential Moving Averages - EMA's 
While the EMA's remain bullish we have seen a caution flag arise.  This happened because the closing price was below the 5 day moving average.  While it may seem insignificant, and at this point it is, what we want to watch for is if a trend develops by more caution flags being added.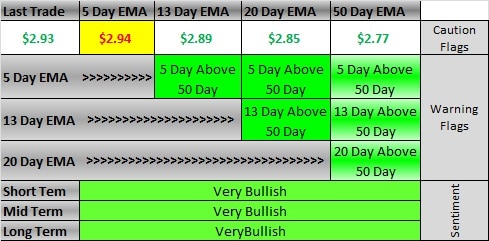 What we want to see is SiriusXM close above the 5 day moving average to remove the flag.  Should the equity dip into the $2.80's a second flag will arise.  Understand this now instead of waiting for the report.  Dipping to $2.88 or so is not a worry, but if you see $2.87 cross the tape be cautious of a dip to $2.84 or $2.83.
Mock Account
As stated above I did complete a mock trade today, buying 250 shares at $2.92.  If SIRI dips into the $2.80's I will be a buyer again.  If it moves beyond $3.00 I will be a buyer there.  Essentially I have a range where I will simply stand pat unless some compelling signal indicates a move is needed.