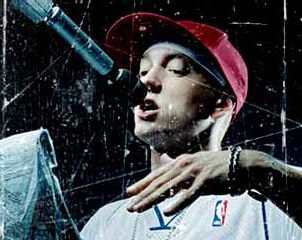 Today Sirius XM announced that it will broadcast two in-depth and uncensored interviews with Eminem on his Shade 45 channel in celebration of his channel's fifth anniversary.
Eminem will sit down with Shade 45's DJ Whoo Kid on Saturday, October 3 at 3pm ET, during the G Unit Saturdays program, to go in-depth about his highly-anticipated upcoming album, Relapse 2, his performance at Voodoo Festival in New Orleans on October 30th and his role in developing the new video game DJ Hero, scheduled to be released on October 27th.
Additionally, Eminem will speak with Shade 45's DJ Tony Touch as part of the Toca Tuesdays show on Tuesday, October 6th at 9pm ET.
No doubt that this promo and interview will be a plug-fest for Eminems' upcoming album but I am sure that the fans of the channel will be happy to take what they can get. For those of you who are fans... what do you you think of Eminem's involvement with his channel? Would you like to hear more from him? Sound off in the comments section below.
For more information and rebroadcast times, please visit sirius.com/shade45 or xmradio.com/shade45.