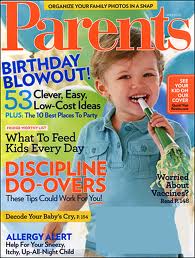 Sirius XM Radio (NASDAQ: SIRI) and Parents magazine  announced the launch of "Parents Radio," a limited-run six week series featuring top editors from Parents as well as a wide range of experts discussing thought-provoking parenting news, tackling common parenthood problems and offering expert advice on health, child behavior and family relationships. The show will include calls from parents across the country and listeners can also ask questions interactively via Facebook and Twitter.
Content such as this is unique and sets the satellite radio provider apart from other services as well as terrestrial radio.  With a wide reaching audience the company is gaining more and more influence on how and where we get our audio entertainment.  "Parents Radio" will launch Saturday, April 14 at 10am ET and air every Saturday through May 19 from 10 - 11am ET on Sirius XM Stars channel 107.
Each week Parents Editor-in-Chief Dana Points and Deputy Editor Diane Debrovner will be joined by fellow mom, host and radio veteran Wesley Weissberg. Together, the three hosts have six kids worth of parenting experience to share via hilarious stories, honest and entertaining commiserating and "it worked for me" advice.
The hosts will be joined by leading doctors, authors, psychologists and bloggers to discuss everything from eating healthy as a family to avoiding baby-naming regret. Expert guests will include Dr. Michael Thompson, bestselling author of Raising Cain, Jenny Rosenstrach, food blogger and author of Dinner: A Love Story and Pamela Redmond Satran, baby naming expert behind the popular website Nameberry.
"We are thrilled to bring the Parents brand to life on Sirius XM and expand the real-time discussion with our audience that is already vigorous on Facebook, Twitter and Pinterest," says Carey Witmer, Executive Vice President, President, Meredith Parents Network. "Listeners will be able to connect with our editors and guest experts to discuss the day's hottest parenthood topics, ask questions and offer their own mom-to-mom solutions. Millennial moms expect to access a brand on all platforms, and 'Parents Radio' is another opportunity for us to engage and inspire them with trusted content wherever they go."

"We are very excited to bring the invaluable information and expertise from Parents magazine directly to our listeners," said Scott Greenstein, President and Chief Content Officer, Sirius XM. "Just in time for Mother's Day, the experts of 'Parents Radio' will share authoritative, candid, helpful and entertaining dialogue with parents across the country."