In the years that I have been covering satellite radio there have always been rumors that run around about Sirius XM (NASDAQ:SIRI) partnering with one company or another.  There have even been some very interesting, yet naive, claims that the satellite radio provider was "Partners" with Apple simply because Sirius XM had an app in the iTunes store!  More often than not these rumors are simply wishful thinking or the delusional fantasies of someone that wants the stock to go up simply by pairing it with another big name corporate entity.
The latest and greatest will certainly make the rounds on the Internet soon.  Sirius XM has partnered up with AT&T in a joint filing with the FCC in regard to the use of the WCS spectrum.  That is it.  That is where the partnership begins and ends.  AT&T is not looking to buy up Sirius XM.  They are not a "potential suitor" that will compete with Liberty Media (NASDAQ:LMCA) for control of the company, and they are not developing a repeater network that will carry Sirius XM content.  Simply stated, AT&T wants to use the WCS spectrum for its 4G-LTE network.
For long term investors in Sirius XM, the mention of the WCS spectrum brings back memories of battles at the FCC on interference, offers to buy the spectrum, and what has amounted to an unused swath of bandwidth that has remained idle for years.  The WCS spectrum is split by the SDARS spectrum utilized by Sirius XM Satellite Radio.  Certainly the spectrum would be attractive to any number of companies, but use of it could severely interfere with consumers listening to all of the great content offered up by Sirius XM.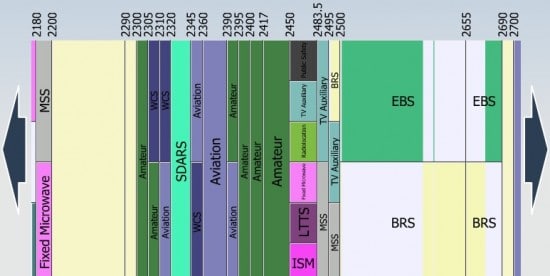 What has happened is that AT&T has desires to use the spectrum and Sirius XM has been fighting for restrictions on that spectrum to protect its own.  The two companies have come to a compromise and have now presented that solution to the FCC for consideration.  The joint application lays out a series of rules that could potentially be adopted to govern the use of the WCS spectrum.  These rules would allow AT&T to move forward and make use of spectrum that has essentially been idle for 15 years while at the same time protect Sirius XM from interference.
This is good news for Sirius XM as, if adopted, it can put to rest several long term issues of uncertainty the company has had around the WCS spectrum and SDARS's own repeater network.  While it may not be the type of partnership some investors were hoping for, it is a big move in the right direction for Sirius XM.  Now let all of the conspiracy theories about the John Malone connection to AT&T run wild.