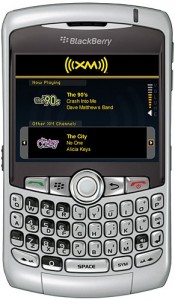 With all of the news making the rounds on a satellite radio application for the iPhone and Mac's, I thought it would be appropriate for me to revisit a service that was made available by XM and Blackberry prior to the merger. Another item that compelled me to explore the service was the introduction of the Blackberry Storm, the first touch screen Blackberry.
As with many people, I am a Blackberry fan. I have seen and used the iPhone, but simply have not been compelled to make the switch. Thus, the ability to get satellite radio programming over my Blackberry was an interesting concept.
The XM for Blackberry service uses some of the best of the merged channel line-up offered by Sirius XM in an easy to navigate menu. Subscribers can listen to channels ranging from Hip Hop to Country, Rock to Jazz and more. It's not just music either. The service also delivers Raw Dog Comedy and The Virus which is home to Opie & Anthony.
I have been using the service for about a month now, and can say that I am impressed with the offering. Catching satellite radio over the cell phone is a cool concept that will only improve as time passes. I find myself using the service in areas where I typically would not, and it came in handy when I wanted to catch the end of an Opie & Anthony segment after parking my car. I simply tuned in on the cell, continued to listen, and went on my way. Over time, the potential for new channels such as Sirius Stars, Sirius Stars 2, and Howard Stern need to be considered, but at this point, the 20 channels being offered are a good cross section of popular channels that the majority of subscribers would have as presets anyway.
The XM for Blackberry service costs just $7.99 per month, and for the satellite radio addict, it is a great solution. You can even test drive the service for FREE (which I would recommend to any Blackberry user) for 14 days by visiting www.xmradio.com/bb. One caution is that you should understand your cell carriers data plan prior to using the service. As a user of T-Mobile, I have unlimited data, thus the usage does not rack up additional charges.
Position - Long Sirius XM