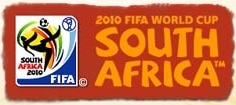 On a global scale the World Cup is one of the most prolific sporting tournaments anywhere. Soccer has fans that span not only nations, but continents as well. Sirius XM Radio has helped promote soccer over the years with the broadcast of games from various leagues.
Sirius XM Radio announced that it will broadcast all 64 matches of the 2010 FIFA World Cup live from South Africa from June 11 through July 11. English language broadcasts of every World Cup match, produced by ESPN Radio, will be available nationwide on Sirius XM. When multiple matches are played simultaneously, additional Sirius XM channels will be devoted to play-by-play, allowing listeners to hear every match in its entirety.
"The anticipation for the World Cup has been building for four years and for soccer fans there is no bigger event," said Scott Greenstein, Sirius XM's President and Chief Content Officer. "Sirius XM and its extensive array of channels will deliver every minute of every match, and ensure that fans can follow all the action involving every team from anywhere."
In addition to live play-by-play of every match, Sirius XM will offer exclusive analysis throughout the tournament from international soccer legend Giorgio Chinaglia and Charlie Stillitano, who will host special World Cup editions of their Sirius XM program, The Football Show. Chinaglia, one of the game's most prolific goal-scorers, played for Italy in the 1974 FIFA World Cup and earned international renown as a striker for the Italian club Lazio and the New York Cosmos. Stillitano is the former general manager of the NY/NJ Metrostars and a U.S. Soccer Foundation founding board member.
The 2010 FIFA World Cup, contested by 32 national teams, will take place from June 11 to July 11 in nine cities in South Africa. Nations competing in the 2010 FIFA World Cup include Algeria, Argentina, Australia, Brazil, Cameroon, Chile, Denmark, England, France, Germany, Ghana, Greece, Honduras, Italy, Ivory Coast, Japan, Mexico, Netherlands, New Zealand, Nigeria, North Korea, Paraguay, Portugal, Serbia, Slovakia, Slovenia, South Africa, South Korea, Spain, Switzerland, Uruguay and the USA.
Position - Long Sirius XM Radio