They may be a little late to the game but at least they're finally playing. Sirius XM is running a Groupon deal so good, you can't afford not to get one.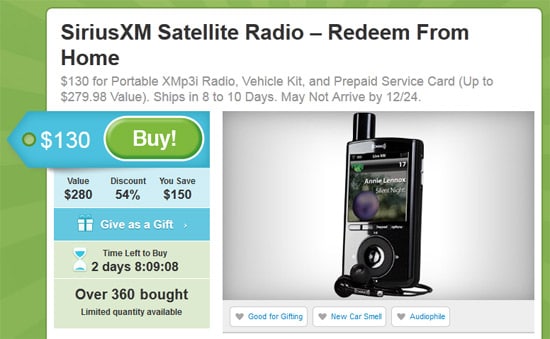 For just $130 Holiday deal seekers can grab a Portable XMp3i Radio, Vehicle Kit, and Prepaid Service Card for 54% off the $280 retail price. Unfortunately, the prepaid service card is only good for $30 and although this is still a great deal for anyone looking for a Christmas gift, a full year of service would have made this deal feel more complete.
Currently the fine print reads that there is a limit of two per person and the real catch is that you have to activate by 12/31/11 which, at this point, isn't an awful lot of time to get the job done.
The deal will be available for only two more days and 20 people have already made the leap in the time it has taken me to write this short post. For those of you who want to read into the numbers, as of 3:40pm ET there were 360 packages purchased.
Give the gift of Sirius XM today!