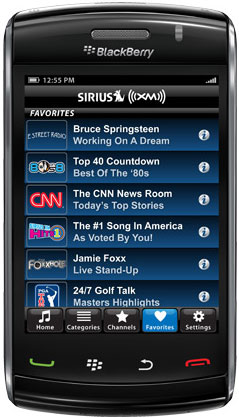 Sirius XM finally announced today that they are getting into the BlackBerry game by offering access to a 120 channels of programming on the BlackBerry Storm, Bold, Tour, and Curve.
The best news? The new Sirius XM BlackBerry application will come with a free 7 day trial for new users. Do I wish it was 30 days? One has to wonder if it will be tough to get a real taste of the breadth all this programming in such a short amount of time.
The worst news? Once again, Howard Stern will not be on the BlackBerry mobile app. This comes as no surprise as The Howard Stern Show was a glaring omission on the Sirius XM iPhone application…sigh.
The future seems to be looking up for the Sirius XM mobile offerings and I am hopeful that they are ready to take this mobile thing a little more seriously. They now have a dedicated Sirius XM mobile page up… now that it is, lets make sure we add Windows, Palm, and Android support like Pandora.