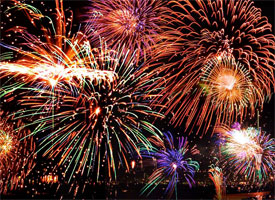 Sirius XM wants you to stay in the New Years and celebrate with all of the special programming they have to offer... personally I would probably just make a note to record some of your favorites and go out and have a good time. That being said, if you are the one throwing the party this year there is plenty of programming to spice up the festivities.
Sirius XM's Party City channel Sirius ch. 39 and XM ch. 38  is designed to serve as the soundtrack to New Year's Eve parties around the country and will feature the biggest, upbeat party hits. The channel will launch on Tuesday, December 30 at 12:00 am and will air through Thursday, January 1 at 11:59 pm ET. Sure, they probably could have found a way to use same channel for both services but what fun would that be if it things just made sense?
The special New Year's Eve programming will also include The History of Howard Stern Act II, a rare behind-the-scenes look at the life, career and achievements of Howard Stern. The History of Howard Stern Act II picks up after Howard's firing at WNBC in 1985 and takes an in-depth look at the beginning of Howard's legendary run at K-Rock. I have been tuned in all week and it amazes me to sit back and listen to just how much the show has changed over the years.
On December 31 at 11:00 pm ET on channel Howard 101 Artie Lange will host an exclusive special broadcast of his comedy DVD, It's the Whiskey Talking. The stand-up set features Lange at his observational and uncensored best, riffing on everything from drinking and gambling to his lackluster movie career.
Sirius XM will also air exclusive live concert broadcasts from all over the country on various music channels featuring some of the most popular acts of the past 40 years, including hip-hop superstar Akon, the timeless American rock band The Beach Boys, Rock and Roll Hall of Fame inductee and founding member of The Allman Brothers Band Gregg Allman, New Jersey rock and roll legend Southside Johnny, multi-platinum duo Hall & Oates and Grammy Award-winning bluegrass band Del McCoury Band.
There truly is so much going on that Sirius XM doesn't even bother to tell us where we can find these "various channels" so that we can listen to these "exclusive live concert broadcasts." Maybe they are so exclusive that we aren't supposed to be able to find them?