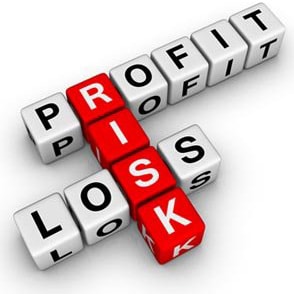 Another trading day has passed on Sirius XM (NASDAQ:SIRI) and with it we gather some important technical information for the balance of the week and leading into the company's Q2 conference call.  As was anticipated from my previous reporting, $2.20 is shaping up to be a battleground area for Sirius XM.  The stock tested $2.20 today and closed down $0.03 at $2.16.  There are a few changes that need to be applied to the technicals with today's latest data included.
VOLUME
One of the key components to an anticipated upward move is volume.  Today Sirius XM exhibited even lighter volume than on Monday.  To me this is a sign that the equity needs another consolidation point and somewhat of a breather.  It is not that the stock does not have any buyers at these levels, but rather that there is some psychological pressure at levels above $2.15.  Simply stated, there is uncertainty in being a buyer or a seller in the current range.  Thankfully, for longs, that means a move should happen soon.  In this situation longs can have confidence because of strong support below, a subject that I will touch on shortly.

As you can see, I have added a new chart to this technical report that outlines volume over periods of time.  This can help us better understand whether current volume is in line with recent trading, or how it stacks up against the last 200 days.  Typically most people that follow technicals use the longer term for their analysis.  In most cases it is the best gauge.  However, the nearer term volume averages come into play when trying to spot more subtle nuances in the trading.  By example, the equity has average 47 million shares over the last 5 days, but well over 52 million shares over 200 days.  Volume coming in at 45 million may seem a bit light when applying it to 200 days, but would be above normal on a 13 day gauge.  In his situation, no matter how you look at it, the volume of 25 million traded today was weak.
Some may look at weak volume as bearish.  In this case, it is actually neutral to bullish.  Sirius XM dropped 3 cents on low volume.  Simply stated, there was not a lot of conviction supporting the drop.  That is not bearish at all.  In fact, today's action helped out longs by adding a new level of support once again at $2.14.
SUPPORT & RESISTANCE
Resistance is Futile!!!  Especially when you have strong support!  Sirius XM brought back a new level of support after today's trading.  This adds a bit of protection above $2.11.  Good news for those seeking a run in the stock price.  In looking at support and resistance the big moves are:
The battleground that I projected at $2.20 is real.  However, there is now a fight at between $2.14 and $2.20.
The longer Sirius XM stays below $2.20 the harder it will be to topple that level.
The longer Sirius XM stays above $2.14, the stronger that support, as well as the support at $2.11 will be
I still see the trading range as having a low end at $2.11.
The high end of the trading range is beginning to shift down to $2.20.  A high end range at $2.26 is still possible, but weakness in eclipsing $2.20, especially if it lasts through the week below $2.20 drags down the top end.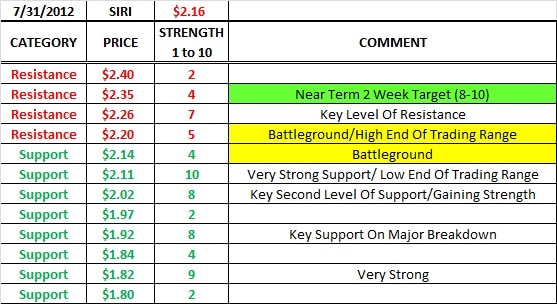 As you can see graphically, the addition of support at $2.14 provides insulation.  Meanwhile, my target of $2.35 is still in place.  I must warn of a developing weakness at that target.  While it is still possible to touch it, I do not see holding it as a real possibility.  My gut, and the charts, tell me that my sentiment that $2.26 will become an eventual consolidation area is still rock solid.  From a support and resistance standpoint, a close above $2.14 tomorrow is important but not critical.  The critical level to hold is $2.11.  On the upside, we want to see Sirius XM knocking on the door of $2.20.
EXPONENTIAL MOVING AVERAGES (EMA's)
I had identified that a close above $2.14 was needed today to keep the bullish signals in the EMA's in tact with a bit of wiggle room.  While the equity did close down, it was above that key price.  For this reason we can maintain all green and bullish signals on the Exponential Moving Averages.  You will see that the least amount of forgiveness rests between the 13 day and 20 day averages.  The next goal for a close tomorrow is to be above $2.16, as we want to get another penny or so in that section of the chart.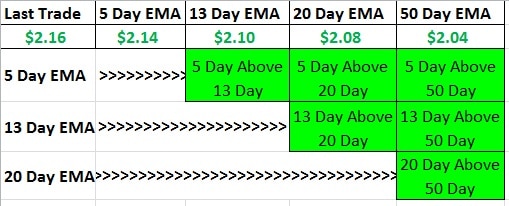 What we have when we consider all three indicators is a pretty solid confirmation that $2.20 is the challenge point and that near term consolidation is possible.  We now have even greater confidence in $2.11 as support and $2.26 as a natural consolidation point.  With auto sales on tap over the next couple of days, it only seems fitting that the street will want to digest that news.  I am a bit more bullish on auto sales this month than both Edmunds and TruCar, but not by a stunning amount.  Watch the news flow on autos closely.  Positive headlines can help Sirius XM as it trades in this critical area.