With January auto sales projected to show a strong rebound and about two weeks before the company announces their numbers Sirius XM (NASDAQ: SIRI) has begun moving up on higher than average volume. Shares, which had held support above $1.50, have been drifting upward on moderate volume for a week. Today trading volume has increased substantially and the equity finds itself in bullish territory on an Exponential Moving Average (EMA) basis.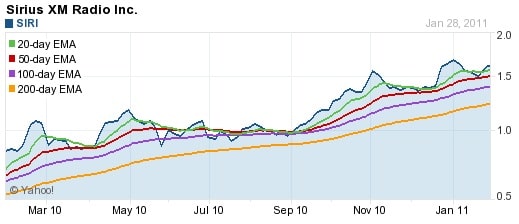 Personally I like watching the volume of an equity combined with the moving averages. This method is easy to check quickly and has proven to be a very decent indicator of direction. Moving averages also take into account both company fundamentals as well as investor sentiment over time. Because equities are impacted by both street sentiment and fundamentals it is always a good idea to use the historical data to help in your investment strategy. Stocks trading above the moving averages are typically seen as exhibiting bullish behavior. Late last week SIRI dipped below the 20 day EMA but stayed above the 50 day. The action at the close of last week and so far this week have taken SIRI above all EMA's and this is a bullish indicator.
The next logical question is where Sirius XM is headed. This is where support and resistance come into play. Sirius XM demonstrated clearly that they could hold support at $1.50. With this move upward the support at this level gets even stronger. The next levels of resistance sit at $1.67 and $1.74 respectively. In my opinion the most likely scenario is that SIRI will test $1.67 during this week and could test the new 52 week high of $1.74 going into earnings the following week. Whether SIRI can get into the $1.80's will be dependent on several factors including their Q4 2010 report (these numbers should be released in mid February), how the street digests the auto sales figures for January. January sales will be well below the magic 1 million number, but an a seasonally adjusted annualized rate (SAAR) basis the numbers promise to look good at about 12.5 million.
Sirius XM has yet to confirm that they met or exceeded their 2010 guidance. While most who follow the stock have confidence that the company outperformed, the official news has not been delivered. Another key factor will be company guidance for 2011. Mel Karmazin always seems to under-promise and over-deliver, meaning that he tries to keep expectations in check while beating the numbers. This can be a tricky slope. If the under-promise is not aggressive enough it could be translated by the street as a leveling off. If it is too aggressive investors may question the ability of the company to meet the stated goals.
One metric that will come into play in 2011 is the revenue line as it relates to the royalty fee. In mid December of 2010 the royalty fee was reduced from $1.98 for a full subscription to $1.40. This decrease of nearly $0.50 will impact 2011 metrics such as ARPU. In 2010 Sirius XM changed their policy and began reporting the royalty fee in the Average Revenue Per User (ARPU) metric. The addition of the royalty fee to this metric inflated it substantially when the change was made. Now that the royalty fee has been reduced, the impact on ARPU will be negative. Investors should note that this change will not be seen in the upcoming report, but will begin to be reflected when the company reports Q1 2011 numbers. There is potential that this royalty decrease could be absorbed by a price increase if the company is allowed the pricing freedom they seek when the FCC makes their decision, on the now three year old merger concession.
The bottom line is that we auto sales announced this week followed by a company report the following week. These news events will be a determining factor in whether Sirius XM can test new highs above the $1.70's. Confirmation that 2010 guidance was met and good 2011 projections will set the stage for how Sirius XM will perform during the month of February.
Position - Long Sirius XM Satellite Radio