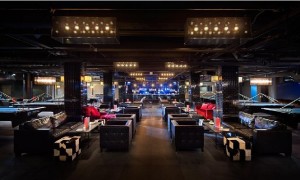 As readers all know Sirius XM is reporting its Q2 results in just one week.  There is a lot to consider as Sirius XM gets ready to tell the street its numbers.  Many investors are expecting a good quarter from the company.  Sirius XM pre-announced 622,000 subscribers, raised subscriber guidance, and raised the outlook for Free Cash Flow as well.  Will the other numbers be strong as well?  Where will churn be?  What about Average Revenue Per User (ARPU)?  This is  an opportune time for fans and investors of Sirius XM to get together for a casual Meet & Greet here in New York City.
The Meet & Greet will happen on Wednesday, August 1, 2012 at Slate in New York City, beginning at 7:00 PM and lasting until the conversations die down.  Slate is a wonderful establishment located at 54 W 21st Street in Manhattan.  If you are from the city, or nearby, why not take an evening to discuss the equity that you are invested in?  Slate has a wide offering of food, beverage, and even has some pool tables that will help get the competitive juices flowing!
I look forward to meeting some of the folks that have helped make SiriusBuzz the most popular destination for satellite radio information on the web!  It will certainly be an interesting year for Sirius XM, and we should finally be seeing the company get the kudos it has long deserved.  See you at Slate!