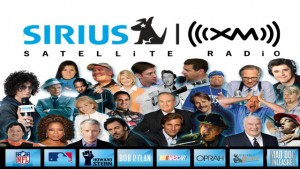 For those of you looking for the words Apple or Microsoft, you can stop right here. Although the iPod was briefly mentioned, it was only briefly touched on in a sense that any deals would have to be beneficial to Sirius XM shareholders.
Stating that Wall Street has avoided investing in media companies citing the fact that "they suck," Mel outlined the 13% growth in Satellite radio as compared with the -3% growth of terrestrial.
One exciting point to the presentation is a firm date of October 6, 2008 for "a la carte" radios and "best of programming packages" to hit the market. "Best of both" packages will include as expected, the most sought after programming.
 SIRIUS on XM                          XM on SIRIUS
    Howard 100                            NBA *
    Howard 101                            NHL Home Ice *
    Martha Stewart Living             Oprah & Friends
    Radio                                      The Virus
    SIRIUS NFL Radio *                  Public Radio with Bob Edwards
    SIRIUS NASCAR Radio             College Sports *
    Playboy Radio                         PGA Tour
One of the first points I made when the merger was approved was my feeling that Sirius XM should use this opportunity to seek out those customers who have not subscribed because their car happened to come with the wrong radio. As of October 6, Sirius customers will be able to access the NHL and Opie and Anthony. That's right, it looks like O & A are going to stay! As for XM subscribers, October 6th brings not only Howard stern but the NFL on XM! In my opinion, this is a huge opportunity for Sirius XM going forward.
October 6th is also the date for "a la carte" radios to hit the store shelves. Yes, you read that right! Well before "black friday!" This should bode well for the holiday season. Mel also hinted about a brand new XM wearable that will be debuting soon, calling it "really cool!"
A few other details, include an expected increase in merger synergies, although Mel still insists on being "conservative" by his own admission, stating that he'd rather miss to the downside than the upside. The company has now increased the expected merger related synergies from 400 million to 425 million dollars. The company spent a lot of time detailing line by line each and every area in which various synergies would be found.
He also dealt extensively with Febuary 2009 converts and stated that there will be no dilution as a result. He made it clear that the converts will be repurchased through cash on hand, bank loans and even implied a willingness to loan the company the money himself if it came to that due, to a tight credit market.
Of course Mel addressed everything you've heard or read discussed here on SiriusBuzz and SiriusBuzz Radio regarding OEM penetration rates and the like, but I'll let the copy and paste guys tell you about that.
An audiocast of today's presentation by SIRIUS XM at the conference is available at the investor relations section of the company's website, www.sirius.com. The audiocast will continue to be available until 5:00 pm, ET, on Tuesday, September 16, 2008.
Position: Long SIRI