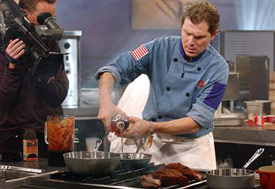 Today Sirius XM Radio announced that Bobby Flay, the renowned chef, restaurateur, award-winning cookbook author and television personality, will host Bobby Flay Radio, an exclusive five-week series of live call-in shows.
Satellite Radio subscribers can tune into some savory content delivered fresh from chef Bobby Flay on Sirius ch. 108 and XM ch. 139 where he will explore the essentials of good living for men of all ages and backgrounds. Flay, the man responsible for Mesa Restaurants, Bobby's Burger Palace, and Bobby Flay Steak will begin airing a regular show beginning January 8th right through to February 5th every Thursday 10:00 am - 12:00 pm ET.
"I love the energy and fast, fun pace of live radio and look forward to interacting with SiriusXM's listeners and sharing my philosophies for living life to the fullest. With the right attitude and a few key ingredients every guy out there can enjoy the good life -- no matter what."
Position - Long Sirius XM