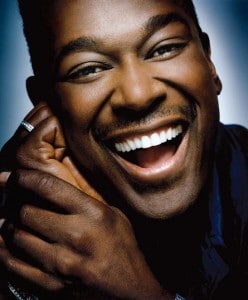 The man could sing!  Sirius XM (NASDAQ:SIRI) has launched a Luther Vandross channel and music fans can certainly appreciate something great when they hear it.  Sirius XM has made great strides in providing limited run channels that feature specific artists and this latest installment will not disappoint.
Sirius XM announced that it will launch "Luther Radio," featuring music from Vandross' 13 Gold and Platinum albums as well as rarities, archival concerts, and an archival interview with Vandross from 2003, celebrating what would have been Vandross' 61st birthday.
Luther Radio will launch on Friday, April 20, Vandross' birthday, at 12pm ET and will run through Monday, April 23 on channel 48.
The limited-run channel will feature music spanning Vandross' Grammy® Award-winning catalog, special broadcasts of Vandross performing at Radio City Music Hall in 2003 and a performance for BBC Radio from 1988, which will be broadcast as part of Sirius XM's "Live from the BBC Vault" concert series. Additionally, "Luther Radio" will include special guest DJ sessions by Vandross' backup singers Fonzi Thornton and Lisa Fischer.
SiriusXM listeners will also hear an archival interview Vandross conducted in April, 2003, a week before he fell ill, with Sirius XM's B.J. Stone.
"Luther Radio" is the latest example of SiriusXM's original artist-branded channels dedicated to iconic musicians. In addition to its current lineup of Bruce Springsteen's E Street Radio, Elvis Radio and Radio Margaritaville, SiriusXM has previously offered channels such as "Paul McCartney's Band on the Run Radio," "Elton!," "The Who Channel," "Mandatory Metallica," "Paul McCartney's Fireman Radio," "Rolling Stones Radio," "AC/DC Radio," "Led Zeppelin Radio," "Miles Davis Radio," "The Spectrum of John Mellencamp," "Radio R.E.M.," "Coldplay Radio," "ABBA Radio," "Jay-Z Nation," "Garth Brooks Radio" and "Duran Duran's Red Carpet Radio."
What will we see next?  With the unfortunate passing of Dick Clark it would be only natural for the company to carry a tribute to the man that was the voice of music for decades.