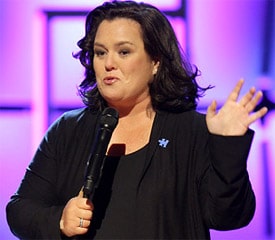 Only a few weeks ago it looked as if Rosie O'Donnell would be leaving Sirius XM in pursuit of a new television show that is launching on Oprah Winfrey's OWN network. On air talk went so far as to acknowledge Rosie's departure. Rosie fans need not fret. Today all of that changed when Sirius XM announced that they will be airing the audio of Rosie's television show on the satellite radio service.
SiriusXM announced today that it will air Rosie, Rosie O'Donnell's daily talk show debuting on the Oprah Winfrey Network, marking the next chapter of SiriusXM's relationship with the award winning talk show host and stand-up comedienne, which started in November 2009 with the creation of Rosie Radio.
Rosie, launching Fall 2011 on OWN, will air on SiriusXM the same day it airs on OWN, with encore presentations airing later in the day.
Following her last live Rosie Radio show on June 1, SiriusXM will showcase great episodes of Rosie Radio throughout the summer on SiriusXM Stars, channel 107, and Rosie Radio's 24/7 SiriusXM Internet Radio channel. These shows will feature a wide selection of Rosie's SiriusXM interviews with compelling guests such as Howard Stern, Edward Norton, Liza Minnelli, Kristin Chenoweth, Lisa Kudrow, Shirley MacLaine, Cyndi Lauper, Macy Gray, Sarah McLaughlin and cast members of American Idiot and other acclaimed Broadway shows.
"Rosie Radio on SiriusXM represents one of the most meaningful experiences of my career, thanks in great part to the amazing listeners across the country who I consider my radio family," said Rosie O'Donnell. "I'm thrilled they will continue to hear me every day on SiriusXM as this next chapter begins."
"Rosie's distinctive voice has had a powerful effect on listeners nationwide from her very first day on satellite radio," said Scott Greenstein, President and Chief Content Officer, SiriusXM Radio. "We are more than delighted that her voice will continue to be heard on SiriusXM."
Position – Long Sirius XM Radio