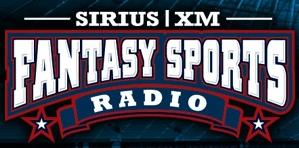 The concept is simple. Find a way to get into a tight knit or focused network of people that are not being served and develop content that they will embrace, use, and share with their friends. In the earlier days of satellite radio this concept was used pretty much across the board by XM Satellite Radio with music, while Sirius employed the strategy with talk. XM offered more eclectic music choices with deeper playlists in music. Sirius offered unique talk content like OutQ and Faction. Niche programming is a concept that satellite radio embraced early on, yet had drifted away from just before the merger. Sure they still have some great unique content, but many of the niches evaporated over time. That seems to be changing.
Sirius XM's Fantasy Sports Radio channel is a highly focused channel. It is all about playing fantasy sports, drafting a winning team, and networking into a social circle that crunches statistics more than most would like to admit outside their fantasy sports circle of friends. With the development of Fantasy Sports Radio, Sirius Xm has given the Fantasy sports world a national stage that simply did not exist before.
It is a great step in the right direction. It is a step that makes Sirius XM unique, and one that can help differentiate Sirius XM from the competition. Yes, it is a focused group, but sometimes focused channels are enough to be differentiators for a consumer.
The other aspect of this channel I like is that they have a web page that is more interactive than most on Sirius XM. The web page actually carries the latest news with links to sites like rotowire.com. This shows that someone with a knowledge about the subject put some thought into the process here. If you have a captive audience, why not keep them on the site. The channels Facebook page already has 730 fans and is sure to grow steadily.
There are a couple of things I would like to see, and this channel is probably one of the best to do it on. Why not offer up a chat room where sponsors can advertise (more revenue) and fans can congregate to chat about the latest moves, or a league to join? I would also like to see the page offer up some leagues of its own so that this channel gives fans every reason to listen, participate, and get together on line? Take the concept to its greatest potential and the rewards will come through loyalty and word of mouth marketing. The bottom line is while the interaction with fans on the web page and Facebook page is a great start, there is still a lot of potential to be tapped.
Sirius XM's Fantasy Radio is a very cool concept that is sure to deliver those that participate hours of enjoyment day after day. Congratulations to Sirius XM on making Sirius XM an even more unique place in the world of audio entertainment.
Position - Long Sirius XM Radio