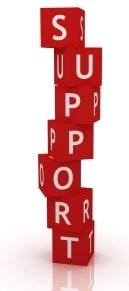 If you have been looking for those popular technical updates here on SiriusBuzz, they are now available to our SiriusBuzz Premium members.  However, this site is about community, so I thought I would share a small bit of a technical update for all readers.  It is likely that if you are not a premium member the last technical update you read on SiriusBuzz had strong support sitting down near $2.40.  That is no longer the case.  In fact, support has been creeping up and now we have a very strong support level for SiriusXM (NASDAQ:SIRI) at $2.50.
The great news is that support has indeed moved up.  The flip side of that coin is that it is pretty clear that Liberty Media (NASDAQ:LMCA) has been helping to hold the proverbial line in the sand by buying up shares on the open market in its quest for de jure control.  In addition, Liberty has been amassing these shares without really moving the equity price up.  SiriusBuzz Premium members are getting insight into why Liberty is able to do that, as well as other insightful information about SiriusXM, Liberty Media, car sales and more.
Longs can celebrate the new support at $2.50, but there are some caution flags that exist in other technicals I follow.  If you are a serious investor, SiriusBuzz Premium may be something you want to consider.  Cheers!