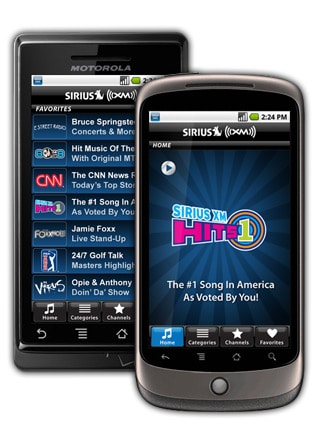 It seems that Sirius XM simply can not get up to speed on the Android platform. Last month the Android 2.2 platform known as "Froyo" began making its way to consumers. The update make droid phones faster and gives some cool upgrades like allowing flash based videos to be watched, and numerous additional voice commands. These are all new services that Android users have been awaiting with great anticipation. Unfortunately, if you are a Sirius XM subscriber you will find yourself without a properly working app.
Weeks after the Froyo roll-out Sirius XM has still not modified their Android app to work properly. Thus, not only are they not in the Android marketplace, they are failing consumers who are buying 2010's most popular smart phone platform! What does it take for Sirius XM to get something right in the smart phone arena? How long do users who paid to have the app have to wait? Imagine if you subscribed to Sirius XM and your smart phone was your predominant method of listening? That is exactly what many people in New York City do. They listen through their smart phone, because many in New York City do not drive in the city. They take the subway or Taxi's. Being headquartered in new York, you would think Sirius XM would realize this.
I realize that the app developer gets a pretty penny to update the app. I also realize that the terms of the app deals with their writers may not be the best, but screwing over customers is something that simply should not be done. If it takes the app developer a month to an update, Sirius XM should break the deal, whatever the cost may be. If the fault rests with Sirius XM because they are being cheap, then someone there should really look at what is happening in the world of Internet radio and cell phones. Either Sirius XM needs to get with it, or they need to grab the intestinal fortitude to Rid themselves of those that are doing the updates.
All of this is happening in the midst of the Howard Stern negotiations. It could not come at a worse time. Stern is hinting toward moving to an app based platform. If Sirius XM can't get the Android app right, can you imagine the negotiating power it gives to Sirius competitors for Stern's services?
The Sirius XM website promises to send an email when the app is ready. This is outlandish! Just get it done. It is code. The revisions can not be that complex! Slacker made the transition flawlessly. Pandora did as well. Seems they have figured out how to make an app. They also figured out the value of getting into the Android Marketplace. Sirius XM....get on the stick!