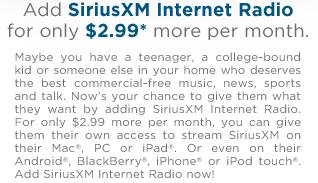 Sirius XM Satellite Radio (NASDAQ:SIRI) is making an interesting marketing move these days. Investors have oft been critical of Sirius XM's marketing efforts when it comes to getting new people on board, but the company tends to do well in getting information out to existing subscribers.
This latest effort, called "Share The Love" is a direct pitch to existing subscribers, but asks that those existing subscribers share Sirius XM with someone else. The premise is surprisingly simple, and given the price point it may be just the type of promotion Sirius XM needs to boost revenues.
What Sirius XM is doing is asking people to add Internet streaming to their account for $2.99 per month. They then ask you to share the access with someone like a child or college student so that they can enjoy the benefits of Sirius XM. Whether or not the promotion gains traction will be interesting to watch.
Even if the company only gets 500,000 of the subscriber base to jump at the promotion, it represents $4.5 million in revenue per quarter, and could be a way for the company to stop the continued drop in ARPU. Sure the numbers are not huge, but every little bit helps.
The company is notifying existing subscribers of the promotion via email.
Position - Long Sirius XM Radio