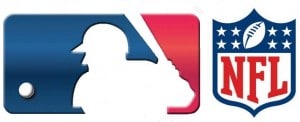 You love baseball, but your car came with Sirius. You love football, but have always been an XM subscriber. These are problems of the past as Sirius and XM have now merged to form Sirius XM Radio. When people think of merger synergies, they tend to think of cost savings that are derived from items such as the elimination of duplicate functions, savings on advertising, or savings in customer service and billing. Some synergies have potential to add revenue, and for investors, the fact that these types of added revenues seem to be getting overlooked could be a positive on the equity.
We covered one obvious revenue stream in Howard Stern, who as the King of All Media, suddenly finds himself with an expanded audience by the addition of XM subscribers that will soon be able to get Sterns program. The next obvious crossover programming would be sports.
Major League Baseball is right now in the midst of a pennant race, and the National Football League is just now ramping up. The timing of the merger from a sports perspective could not be better. XM has every MLB game, Sirius has every NFL game... SIRIUS XM Radio will be able to offer crossover programming in the form of "Best Of". Best Of will allow existing subscribers to get some of the best from what used to be the other service. The fee for accessing the crossover programming... only $4.04 per month.
Don't look for a full crossover on sports, but rather selected games. There simply is not enough bandwidth to deliver all of the games to each respective subscriber base on a crossover basis, but there should be a good selection of popular games that give Sirius subscribers access to baseball, and XM subscribers access to football.
So, will the baseball playoffs and the World Series be available to Sirius subscribers? I would venture to say that Mel Karmazin has that as a goal. Will opening kick-offs from the NFL be on XM? Again, I think that popular games are in Mel's game-plan.
Baseball and Football are the obvious sports crossovers, but potential exists for NASCAR (The Sprint Races), college sports, the NBA, Soccer, and perhaps even the NHL, although the NHL rights were paid for in part by XM Canada, which is a separate entity from Sirius Canada.
What kind of revenues will crossover sports bring? If 1,000,000 subscribers decide to add the crossover programming, SIRIUS XM Radio can realize a bit over $4,000,000 per month in new found revenue. Ad dollars would likely increase as well, as the audience is expanding, and the reach is that much greater. While $4,000,000 may not seem like much, it is "found money", and will help deliver better cash flow for the company as it moves forward.
Look for new details to be rolled out over the coming weeks on Best Of programming. Karmazin has indicated that news will begin to roll in after Labor Day (September 1st).
Position - Long SIRI, Red Sox, and Patriots.