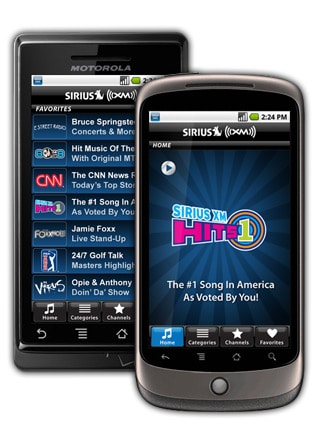 Earlier this month I wrote an article about the sirius xm mobile phone landscape and the fact that what is happening in that market may give a good hint at Sirius XM's next move as it pertains to content on mobile devices. Today the company announced that indeed, they will be launching an App for the Droid platform.
Sirius XM says a free application for Android-powered smartphones will be available in May, giving consumers access to over 120 channels of sports, talk, entertainment, news, comedy and commercial-free music on the DROID by Motorola and the Google Nexus One.
The free Sirius XM App for the DROID and Nexus One will give mobile consumers the freedom to listen to Sirius XM Premium Online content on the go on their smartphones over cellular and WiFi networks.
"Sirius XM will make it easy and convenient for DROID and Nexus One users to access our superior programming and exclusive content that they can't get anywhere else," said Scott Greenstein, President and Chief Content Officer, SIRIUS XM Radio. "We are happy to add the DROID and Nexus One to our growing portfolio of Apps for smartphones that bring subscribers the best in mobile audio entertainment."
The App will give subscribers to Sirius or XM Premium Online who own a DROID or Nexus One the ability to access exclusive sports talk and entertainment programming from SIRIUS XM's satellite radio service. Exclusive programming includes MLB Network Radio, SIRIUS NFL Radio, NHL Home Ice, PGA TOUR, Mad Dog Radio with Chris Russo, CNN, Fox News Talk, NPR, MSNBC, The Foxxhole channel presented by Jamie Foxx, Blue Collar Comedy Radio, The Virus featuring Opie & Anthony, Playboy Radio, Rosie Radio, Oprah Radio, and Martha Stewart Living Radio.
Certain programming, including MLB Play-by-Play, NFL Play-by-Play, SIRIUS NASCAR Radio, and Howard Stern, will not be available via the Sirius XM App for DROID and Nexus One. Listeners will continue to be able to access that programming through the SIRIUS XM platforms where they are currently offered.
To sign up to receive an email with a link to download the free App when it is available, users can also visit siriusxm.com/android.
Position - Long Sirius XM Radio