The launch of Entune by Toyota may highlight services like Pandora and iHeartRadio, but Sirius XM is not exactly missing from the new infotainment system. Bing gets drivers where they want to go, but the traffic data over-layed onto the navigation screen come from XMTraffic. In addition, other XM data features that come with the Entune system include stock quotes, gas prices, and weather. These XM data services, like the Entune platform come built into the price of the vehicle for three years.
What we have here is satellite radio keeping themselves relevant in the car long past the point that the 3 month promotional satellite radio audio trial ends. It is not clear whether or not Sirius XM receives revenue for these 3 year data programs, but at a minimum, the satellite radio name and brand will still be at the fingertips of consumers. Although the data information is one way (customers receive data only and can not send), the services are still valuable to consumers.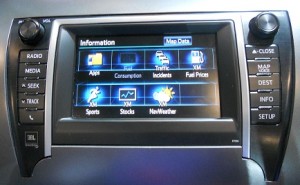 A consumer can access Bing to find a point of interest, Open Table to reserve a table, or Movies.com to buy tickets to the latest big screen gem, but they still need to navigate there and the traffic overlay on the navigation menu is quite helpful and fully integrated.
Because XM has been successful in getting car companies like Toyota to integrate their data plans on a long term basis, a built in satellite radio audio subscription may not be far away. If a three year subscription (a cost of about $400) could be built into the cost of cars (at least as an option), it would alleviate building pressures from Internet radio apps finding their way into dashboards via smart phones. By doing this Sirius XM could get guaranteed revenue up front, and be a part of the consumers car experience for three years.
The bottom line is that Sirius XM is quietly rolling out data packages with OEM's that keep them relevant to not only car manufacturers, but consumers as well.