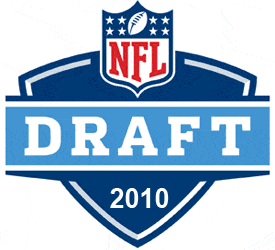 The 2010 NFL Draft is set to kick off April 22nd, and NFL fans are sure to tune in to see who was drafted by their favorite team. Content such as the NFL Draft is covered by many media outlets, but is almost made for radio. The draft covers three days of teams being "on the clock" as they consider who to draft, whether to trade, or how a particular player will fit into their team. The fact is that draft is filled with analysis and commentary, and there is simply no way to know what time your team will come up.
The NFL Draft on radio allows subscribers of Sirius XM to go about their day while listening to the radio. You don't have to be a couch potato to catch all of the content. Instead, you can go on about your day listening to some of the best NFL analysts talk shop as everyone awaits each pick announcement.
On Thursday, April 22, the NFL Draft will begin when NFL Commissioner Roger Goodell opens the event at 7:30 pm ET. SIRIUS NFL Radio will begin broadcasting live from NFL Draft headquarters at Radio City Music Hall at 7:00 pm ET and will cover every selection.
Friday, April 23, SIRIUS NFL Radio's on-site Draft coverage will resume at 6:00 pm ET and will cover every pick from rounds two and three. On Saturday, April 24, SIRIUS NFL Radio will broadcast every selection from rounds four through seven from 10:00 am ET through 6:00 pm ET. In all, SIRIUS NFL Radio will provide 17 hours of live coverage from inside Radio City Music Hall plus full pre- and post-Draft analysis every day leading up to and throughout the event.
Want more? Before and after each day's live broadcast from Radio City Music Hall, SIRIUS NFL Radio hosts will be on air to discuss the latest news and give fans from all over the country a forum to call in and react to their team's 2010 Draft performance.
Tune in and check it out.
Position - Long Sirius XM - New England Patriots Fan