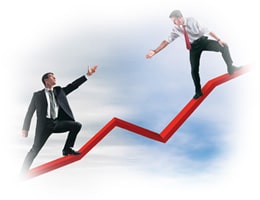 Well, we have another trading day in the market complete and SiriusXM has maintained a position in consolidation mode.  There are a few concerns with the action today.  We saw a head fake early on with some volume that took the equity up to $2.84, but the volume evaporated and the equity returned to expected levels.  As the close approached we saw the equity give up a couple of cents.  This was concerning in that the support/resistance level at $2.77 was broken. The silver lining is that the action today actually served to lower that key level to $2.76.   While the volume is was not high during the session, there appears to have been a massive spike  at the close.  In fact it was a 10 that painted the tape for $2.79, and 12 and 13 million share trades in after hours that were in the $2.77 to $2.79 neighborhood..
In simple terms it looks like the short term bearish signals are still in play despite a willingness for this equity to test higher ground. What we have now is an equity that has all moving averages within a dime of each other.  This makes determining a direction more difficult, but not impossible.  Consider what we have seen.  The equity is finding it challenging to get and stay above $2.80 and the equity is seeing support at $2.75.  Essentially we need compelling volume or we are in for a few more days of consolidation.  On the positive side, we are seeing higher highs and higher lows, so it appears, at least for the moment that when the consolidation stops that this equity is looking for a reason to move up rather than down.
Regarding the spike at the close.  It was likely filling a trade from earlier in the session when the equity was hitting the spike in the morning.  I would, for the time being, consider it an anomaly  although the after hours action seems to indicate buying interest at just below $2.80.  This will make the morning interesting.  Had those shares transacted during the day we could have a different story taking shape.
Volume
For whatever reason I am having difficulties in getting the volume chart up today.  That being said, there is nothing too compelling about the action as it relates to the chart.  Volume between 55 million and 65 million is consolidation volume.  The equity is a bit lighter than that (absent the spike trade at the end of the day, so in my mind it is setting up for a move.  If we see volume in the 30's, then a move is imminent.  What we want to see is how this equity reacts at certain levels.  Those levels happen to be $2.75 and $2.85.  Notice that these key levels are creeping up.  That is a dynamic we want to keep an eye on.
While the overall story on SiriusXM remains bullish, there are some realities that we must consider.  It is looking like a share buyback this year is essentially off of the table.  Many analysts had a share buyback starting this year. looking ahead, that means that price target moves upwards will not be as frequent.  The company needs to catch up to expectations now before new expectations can be developed.
Compelling volume is at 75 million shares.  A move on that type of volume will have both strength and meaning.  Considering after hours, we seem to have gotten that.
Support and Resistance 
The support and resistance chart is now looking very interesting.  We are seeing a spread happen which allows room for a dynamic move.  The first real test of resistance is at  $2.95, while the first real test of support is at $2.60.  That is a substantial range.  Sitting right about in the middle is a key level at $2.76.  Can you see the next possible phases?  They are a range between $2.60 and $2.76 or a range between $2.76 and $2.95.  My gut tells me that a trip down to the $2.60's, if it happens, would be short lived.  Thus, the most likely situation after consolidation finishes is a range between current levels and $2.95.
What we want to see is the equity trade on high volume.  This may happen, so I can see a possible run up toward $2.90 tomorrow.  The big volume buys today do not happen out of the blue.  If you are an active trader and out right now, you may want to consider getting back in,  It appears that a big fish is laying down some decent coin on this equity right now.  Whether that sets a new "rush" into the equity is tough to tell, but my gut tells me we will see the equity test $2.85 tomorrow and perhaps push $2.90.
Exponential Moving Averages - EMA's 
The EMA's are in consolidation mode.  We have all four EMA's within 9 cents of each other and the 5, 13, and 20 all within a penny of each other.  We are a small move away from seeing another danger warning as well as a small move away from erasing a danger move.  That is how tight this is getting.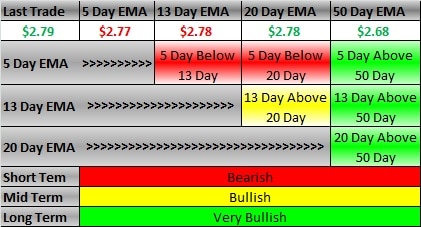 A close above $2.79 tomorrow will maintain current positions on the bullish/bearish indicators.  A close of $2.85 will erase a danger flag.  A close of $2.73 will add a flag.  Compelling times!  In normal situations I would say that maintaining your position (be it in or out) is the prudent move to await direction.  The big after hours action has me thinking that this equity has a defender though.  Thus I am leaning to the bottom (very near term) being $2.74 while the top (very near term) carries a potential of approaching $2.90.
NEWS
I wanted to go through the pure technicals before bringing this up.  It is speculative, so take it with a grain of salt.  Big buys do not typically happen unless there is something happening in the news pipeline.  Bear that in mind.