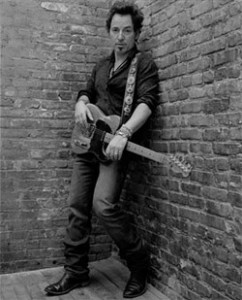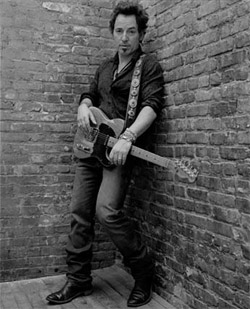 Sirius XM Radio (NASDAQ: SIRI) recently announced that Bruce Springsteen and The E Street Band will perform at Harlem's world famous Apollo Theater for the first time at a special concert event, only for SiriusXM, to celebrate 10 years of satellite radio.  The concert will be held on Friday, March 9th at 8:00 pm ET, three days after the release of Springsteen's new album Wrecking Ball. The concert will air live nationwide on Bruce Springsteen's E Street Radio, channel 20.
"We are proud and excited to celebrate ten years of satellite radio with one of the most enduring superstars of popular music, and true friends of SiriusXM, Bruce Springsteen and the E Street Band," said Scott Greenstein, President and Chief Content Officer, SiriusXM. "Bruce's music, now more than ever, reflects the attitudes and controversies, and the personal and national conversations of our time."
In celebration of SiriusXM's tenth anniversary, the company, on behalf of its employees and Bruce Springsteen and the E Street Band, is proud to announce that it will make a contribution to WhyHunger, the non-profit organization founded in 1975 by late musician Harry Chapin. WhyHunger is a leader in the fight against hunger and poverty in the United States and around the world.
Subscribers will have the opportunity to win tickets to the event through dedicated listener emails as well as various call-in promotions on E Street Radio and across SiriusXM's diverse music, talk and sports on-air channels. In addition, SiriusXM host and prominent rock journalist Dave Marsh will also give away one grand prize travel package during his E Street Radio show, Live From E Street Nation, including four tickets to the concert, a paid trip to New York City, two nights lodging and the opportunity to guest DJ on E Street Radio. All online and on-air sweepstakes opportunities to win tickets to the concert are limited to listeners who have been an active subscriber continuously since January 24, 2012.
This is all great, but in reality, the 10 year celebration could be much bigger.  I love that Sirius XM does these concerts, but in many ways I really wish that the company would spread the wealth a little bit, and connect with their current audience as well as attract a new audience.  Why are all of these concerts held in New York?  Why not get L.A., Miami, Chicago, and Minneapolis into the mix? Why not take the celebration to the next level?
Sometimes it seems as if different departments within Sirius XM do not coordinate efforts.  An announcement like this was a perfect opportunity to bundle things in a way that would make the celebration of 10 years much more substantial.  For example, the company has already sent out mailers to inactive account holders stating that Sirius XM will be turned on for Free from February 1st through the 14th.  This is a freebie that Sirius XM does about once per quarter.  Why not make this one about the celebration of 10 years?  This would have allowed the company to combine the news with the Bruce Springsteen event, and just might get some people to stay on board after the free trial.  Taking it a step further, why not offer up a "gift" to subscribers in a way that creates excitement, interaction and buzz?
What If?
What if the company gave existing subscribers the chance to choose a "gift" in celebration of 10 years of satellite radio.  Create a landing page on the website, announce it, get it sponsored, and create something out of nothing.  What if the company were to have siriusxm.com/10years, where people could see a menu offering something like the following:
In Celebration of 10 years of Satellite Radio Excellence, existing subscribers can name their gift from the following options:
A)  50 additional entries to see Bruce Springsteen live at the Apollo Theater - Includes airfare, accommodations for 2, and 2 tickets to the concert. (odds depend on number of entries)
B)  One free month of  Sirius XM (anyone and everyone - its guaranteed)
C)   Tour of Sirius XM studios (odds depend on the number of entries)
D) Sirius XM Edge Receiver (odds 1 in 100)
It is a simple idea, but it would generate traffic.  One well placed advertisement on the landing page would generate revenue.  A well selected sponsor could offset a lot of the costs, and it would create a buzz among existing subscribers.
What if we took the 10 year celebration further?  The company just launched a suite of Latin channels.  Why not host a concert in Miami, or other to Hispanic markets?  Simply stated, why not make this celebration bigger and better?  Why not coordinate efforts with the channels, and make all of the contests offered on the channels about the 10 year celebration?  Why not ring the bell at NASDAQ, and get people out there in a way that promotes satellite radio to the masses?
I realize that there are things that limit what the company can do, and that there is not a bottomless budget, but some rather simple ideas could make this celebration so much more.  A little coordination could go a long way.