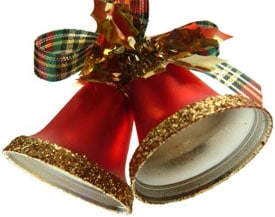 I can't think of a better way to drown out entertain the kids all hopped up on candy canes and that weird uncle who drinks too much "special eggnog" this Holiday season then with this festive lineup from Sirius XM.
Holly (Sirius ch. 81 and XM ch. 35) will broadcast contemporary holiday hits mixed with selected traditional favorites and will include Amy Grant, The Carpenters, Mannheim Steamroller and more. Holly will air through New Year's Eve, December 31.
Bing Crosby Christmas Radio (Sirius ch. 113 and XM ch. 120), a non-stop broadcast of more than twenty years of vintage Bing Crosby holiday radio specials, hosted for SIRIUS XM by the Crosby family and featuring a wide variety of Crosby's beloved music-including his most popular recording ever, "White Christmas"-and special guests like Frank Sinatra, Judy Garland and Bob Hope. Bing Crosby Christmas Radio will air beginning December 13 at 12 midnight ET to Christmas Day, December 25.
Holiday Traditions (XM ch. 36) will broadcast traditional holiday recordings from the '40s through the '60s by artists such as Bing Crosby, Andy Williams, Ray Conniff, Nat "King" Cole and more. Holiday Traditions will air beginning Monday, November 24 at 12 midnight ET through Christmas Day, December 25.
Holiday Pops (Sirius ch.79 and XM ch. 37 | 77) will broadcast beloved carols sung by the greatest classical musicians of all-time including the Mormon Tabernacle Choir, Luciano Pavarotti, Boston Pops and Leontyne Price. Holiday Pops will air beginning Thanksgiving Day November 27 at 12 midnight ET to Christmas Day, December 25.
Radio Hanukkah (Sirius ch. 3 and XM ch. 38) will broadcast a celebration showcasing Hanukkah music and Jewish culture. Radio Hanukkah will air beginning the first night of Hanukkah on December 21 starting at 12 midnight ET to December 29.