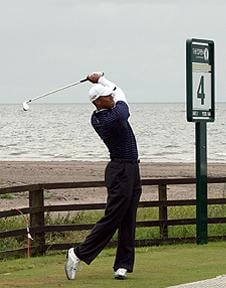 In something reminiscent of 2005 and 2006, Sirius XM put two announcements across the news wires in one day. Specifically, the company announced comprehensive coverage of the British Open, as well as a new deal with Mercedes Benz that promises 100% penetration on all Sirius equipped certified preowned Mercedes Benz vehicles.
Golf fans will be happy to know that the 138th British Open Championship will be broadcast live this Thursday, July 16, through Sunday, July 19, on XM channel 146 and on SIRIUS channel 209 with the "Best of XM" programming package. The news is not only being issued by Sirius XM, but on the PGA website as well.
The company has made a point of highlighting crossover content that demonstrates why existing subscribers would want to receive the "Best Of" programming packages. In this case, because the PGA deal was an XM deal, only Sirius subscribers that get the "Best Of XM" package will get to hear every drive, pitch and putt of the famed British Open.
SIRIUS XM's T.J. Rives, Brian Katrek, Bob Stevens and Earl Forcey will provide listeners with live hole-by-hole coverage of the Open Championship from The Ailsa Course in Turnberry, Scotland as well as live updates. Tee off time coverage will begin Thursday and Friday at 3:00 am ET and Saturday and Sunday at 4:00 am ET and will continue until the conclusion of each day's play. The company states, "In all, listeners will have access to more than 45 hours of live play-by-play from Thursday through Sunday plus comprehensive replays that will cover all the day's highlights and the performances of the tournament leaders."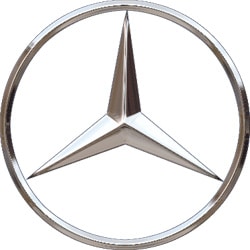 While golf fans celebrate that news, investors will be keen on the latest OEM news. Sirius XM and Mercedes Benz announcement not only involves the announcement that all Sirius equipped preowned vehicles will come with a trial period, but that 100% penetration on all Mercedes Benz vehicles will continue for the 2010 model year.
For the certified preowned program, consumers will get a three month trial of the "Sirius Everything" package. Buyers of a new Mercedes Benz are treated to a six month trial. The overall take rate in the OEM channel is currently about 45%. The sales of Mercedes Benz vehicles are not as high as other brands, but the demographic of a typical Mercedes Benz buyer fits well with a service such as satellite radio.
Given the fact that Mercedes Benz has carried a very high penetration rate for a couple of years, the certified preowned program provides a good deal of promise in getting Sirius XM exposed to new consumers. The certified preowned programs also serve as a tool for the company to try to get a second chance with a radio that has already been subsidized.
Watch for the company to continue to update and work with many OEM's on their certified prowned offerings, as the auto channel has become very used car centered in this economic climate.
Position - Long Sirius XM