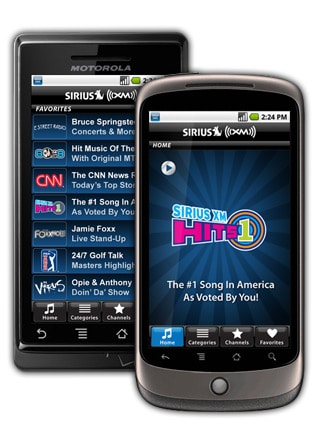 It was only a week ago that Sirius XM announced that an app for the Droid platform would be available in May. Today SiriusBuzz has learned that we may only have to wait another week to see the app live and in person. This is something that Droid owners such as myself have been waiting for.
What we have learned is that the app could hit the market on or about May 6th, 2010. The company now has apps on three of the five major smart phone categories. Official apps have still not been developed for the Microsoft or Palm lines. Although Droid (Google) is currently fourth in the smart phone category, they are gaining share faster than any other platform, and it is possible that they will eclipse the Microsoft based phones soon if not already.
The timing of this news is interesting in that the company will have just reported their Q1 numbers on the heels of just reporting a debt pay-down, which was on the heels of the regaining full NASDAQ compliance. Accompanying all of that good news is the announcement of what is anticipated to be decent auto sales numbers.
The official news of the Android app will be announced via an email to subscribers who signed up for the notification. All in all, this represents more great timing by Sirius XM, as they continue their migration into the smart phone platform and garner more and more exposure.
Want to learn more? Tune into SiriusBuzz Radio Tonight at 9:00 PM EST
Position - Long Sirius XM Radio