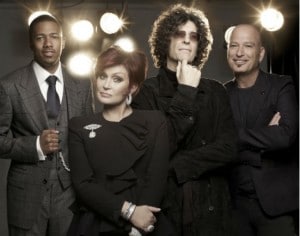 Well the day finally arrived when Sirius XM's (NASDAQ:SIRI) Howard Stern debuted as a judge on the hit television show America's Got Talent.  What an opportunity for Sirius XM.  Actually it is an opportunity LOST!  Instead of Sirius XM putting together an advertising spot and letting a whole new audience know that Howard Stern is on the Sirius XM channels we saw the exact opposite.  Sirius XM did not advertise at all on the 2 hour premier of America's Got Talent.  Instead, the folks at NBC Universal, the network that airs AGT, have had the forethought to buy advertising time on the Howard Stern channels to promote the show.  Great news for the advertising executives at Sirius XM, but the reality is that AGT is a perfect backdrop for the satellite radio provider to expose their service to fans of America's Got Talent and thus far the company seems to have dropped the ball on this.
In fairness, AGT did have lower rating this year when compared to last, but there were still an estimated 10 million viewers and this year the talent competition was up against the hit show Dancing With The Stars.  An audience of 10 million is not something to ignore, especially when the central figure on that show is the biggest personality on the satellite radio airwaves.
While Sirius XM does garner the bulk of their subscribers from the auto channel, we must consider that there are 10's of millions of cars on the roadways with satellite radios that are not active.  Why not let those consumers know that they can get Howard as well as just about anything else with a subscription to satellite radio?  Yes, an ad campaign would cost money, but Sirius XM is booking profits now and a concentrated campaign on a show like America's Got Talent may be a catalyst that could help the company boost their metrics even further.
Sirius XM has been quite adept at keeping their subscribers once they get them with money spent in retention programs.  Kudos for this performance.  However, it is time to take things up a notch and to let the masses know you exist.  Spotify is cutting deals with Coke to expand their brand.  Facebook with their impressive Facebook Music service is propelling competitors to new heights while Sirius XM seems to squander such exposure.
It is not too late.  America's Got talent has a long season ahead of it.  Howard Stern has been brilliant in exposing AGT to Sirius XM fans, it is time for Sirius XM to be brilliant and expose satellite radio to America's Got Talent fans.  Sometimes investing getting exposure to a new audience is a good thing.  Sirius XM has done great in the auto channel.  Now they have a real reason to get into advertising on television.  Let's hope that we see the Sirius XM brand on America's Got Talent sooner rather than later.