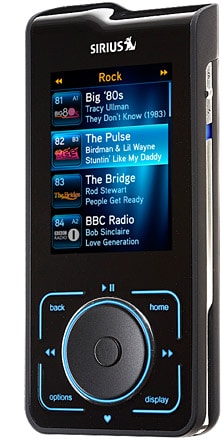 Measuring in at 1.9"w x 4.3"l x 0.6"d, weighing 4.3 oz., and with a 2.2" color display, the all new Stiletto 2 is Sirius's next shot at that portable audio entertainment market... you know, that other market the NAB says Sirius does not compete in.
The all new Stiletto, like the original model, has the ability to receive live Satellite Radio, Internet Radio and is said to include capabilities that surpass the leading MP3 players Enhanced WiFi capability. The most notable improvement is the smaller package, with its lack of battery bulge and slimmer design the critics might be a little kinder this time around.
Other notable features include…
Support for SIRIUS Internet Radio's premium audio offering.
Removable microSD media slot for expanded storage of MP3/WMA files
Easy storage and management of MP3/WMA files
Bookmark and purchase songs through any compatible online music service
Enhanced WiFi capability, providing faster access to a larger number of networks and support for commercial WiFi hotspots.
The new Sirius Stiletto 2 will be available this Fall... just in time for the holidays (MSRP: $349).