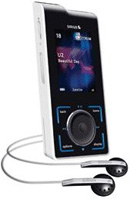 The sleek, stylish, personal, powerful, and completely portable Sirius Stiletto is finally hitting the shelves. The new WiFi capable portable audio player has been so popular in its first few weeks that retailers are simply selling out. I see this being a hot item this holiday season, I just hope they can keep enough of them on the shelves to fill the demand. You can pre order yours today from retailers like Cardomain
or Shop Sirius, and expect delivery around October 30th.
So far reviews are mixed. It seems the more tech savvy people seem to like it, while people who are new to this kind of technology seem overwhelmed and displeased. I am sure this new Stiletto is great, but I am also willing to bet the next generation model is right around the corner and it will be twice as good. If you have the money I would think this is a must have, if you are a penny pincher I would wait for the Stiletto 200. I'm sure the Stiletto 100 will be obsolete by next week.