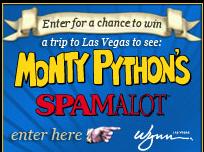 Contests are great. Entering is quick and easy, and maybe, just maybe you will become the lucky winner. Sirius is running a contest that can send you and and three "knights" or "maidens" on a trip to Vegas to catch the Monty Python show Spamalot!
If you're the lucky winner you'll be flown with three of your "knights" (or maidens) to Las Vegas, get two rooms for two nights at the luxurious Wynn Las Vegas, a feast for four at Corsa Cucina, and if that isn't enough, you'll also get four tickets to the VIP Indulgence Package at Le Rêve, VIP table for four at the Tryst Nightclub, spectacular prizes such as autographed memorabilia, backstage passes, as well as sending you off to the see Monty Python's SPAMALOT at the Wynn Las Vegas, starring John O'Hurley, of "Seinfeld" and "Dancing With the Stars" fame!
No need to search for the Holy Grail, find a shrubbery, or even fight a black knight. You can even win if "your mother is a hamster and your father smells of elderberries."
So why not give it a try and visit Sirius.com to enter?