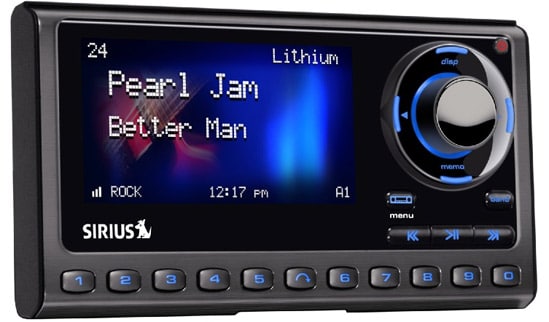 Just days after XM released the first color plug and play satellite receiver Sirius counters with a color display of their own. This next generation Sportster has the advanced features of its predecessor along with a user adjustable color screen display to match your dashboard lights or your current mood.
The new Sportster measures 4.5" x 2.5" x .6" and at just 3.7 ounces, it is the lightest Sportster yet. Keep an eye out for the new Sportster that is said to be dropping this fall. With an MSRP of just $169, I'm thinking a Christmas present might be in order to replace my old Sportster 3.
Some notable features include...
Large multi-color display: easy viewing and use
Selectable colors: match your dash lights and mood
Universal docking capability: add accessories for your home, office or additional vehicles
SIRIUS Replay(TM): pause, rewind and replay up to 60 minutes of live SIRIUS radio
30 presets: enjoy fast access to your favorite channels
One-Touch Jump(TM): direct access to local traffic and weather, or your favorite channel
Personalized sports ticker: real-time updates of your favorite sports
Sports Alert(TM): track your favorite sports team and race driver
Parental controls: easily lock and unlock channels
Alarm clock w/snooze: wake up to your favorite channel