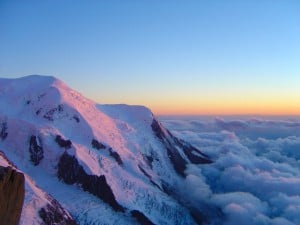 Sometimes  membership to SiriusBuzz Premium has its privileges!  Hopefully members have been able to take advantage of these dips and runs over time and have at the same time become more comfortable with technicals, as well as fundamentals.  What we saw transpire today was not exactly as per the script, but the essence of what I have been looking for.  No, we did not get sub or guidance news.  Instead we got conference call news announced earlier than normal and a conference call date that is happening earlier than normal.  Sentiment would seem to dictate this is bullish and good news.  The even better news is that SiriusXM still has those subscribers aces up its sleeve should it need them!
The new key word on this report is cresting.  Read below and find out more about it!
Volume
Yesterday I stated that we would want to see this equity test $2.75 on at least 85 million shares.  I also said that walking up to that level is superior to a sprint.  We got the 85 million shares but not the $2.75.  That is great though.  The equity tested close ($2.73), did in on great volume, closed at the high of the day, and has now set the table for the next move!  There is a lot to be happy about!

Here is the situation.  Recent volume is pretty substantial and higher than normal.  As volume increases it becomes harder to beat.  When volume does not beat, it typically indicates that the top is near.  The strategy will differ depending on whether you are a long term holder or actively trading.  This will also be tricky because we have Karmazin speaking at Liberty soon, the aces in the sleeve relative to subs, and the quarterly call on October 30th.
While there is a general bullish feeling around this equity, I want to place a warning now and will offer more detail in a post on another day.  The warning is that SiriusXM is not going to report a very flattering EPS in the Q3 call.  While we should not value the company on EPS, it is a measurement that is oft used.  The reason the EPS will not be flattering is that the company spent a good deal of money in debt activities in the quarter.  In fact, the costs to retire debt will likely be in excess of $100,000,000!  Most all metrics including FCF, EBITDA, etc will be fine, but the EPS could get tricky.
The reason I bring this up is that traders want to be building a strategy now.  That strategy should include when Karmazin speaks, and the lead in to the call.  As we test new waters we want to watch volume closely.  If we see a crest, then volume dry up, it could indicate consolidation.  Consolidation oft includes a small retracement.  Determining the possibilities of retracement levels is a work in progress and why you want to keep your finger on the pulse of this equity!
What we want to see now is SiriusXM test $2.75 on volume of at least 97 million shares.  If it can do this the crest will be above and toward $2.80.  If SiriusXM passes $2.75 on less than 75 million shares, we could be looking at $2.75 as the crest.  Tomorrow will help determine the immediate future of the equity.
Support and Resistance
There are a few changes to this chart.  I want to note that the green represents targets, yellow represents battleground, and red support.  The faded colors help to illustrate the dynamics.  I have added a resistance level at $2.80 and labeled it as a possible crest.  This is what I was referring to in the volume section of the report.  For active traders we are seeking out the crest point and evaluating whether that represents a sell move or a hold move.  It really depends on how far a retracement may go as well as news.  Tread carefully if you are trying to trade in a bullish trend.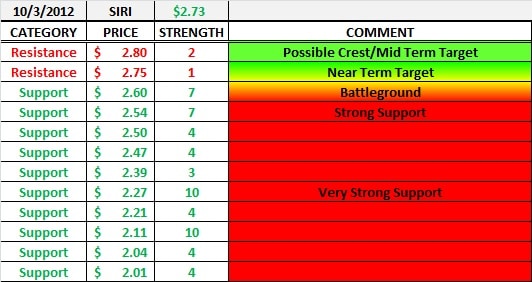 What we are looking for is the behavior of SIRI at $2.75, and now at about $2.70.  While no real support has been established yet there, it should come in tomorrows trading.  That support level, in my opinion, could come in at anywhere from $2.67 to $2.70.  Because there is still an unknown, watching how the equity reacts at anything around $2.70 is important.  Remember, right now the next substantial safety net is at about $2.60.  If this equity passes down to below $2.67, $2.60 could be in the cards.  My belief though is that we have not seen the crest yet, but we always want to keep the risk side in view.
Exponential Moving Averages - EMA's
The story here is looking good.  There are nice gaps between each successive averages, and they are moving up in tandem.  There is an interesting development between the 13 and 20 day averages.  This two cent gap is a little close, and we want to see that spread a bit.  That can happen if SiriusXM closes above today's price in tomorrows action.

What we want to see is SIRI close at $2.56 or better to maintain bullishness.  That is a lot of wiggle room!  To improve the spread a little bit we want to see the equity close at $2.65 or better.  Still great wiggle room!  In order to see anything bearish this equity would need to close at $2.52 or lower.  See how awesome this is!
Summary
We are looking for a crest.  It could be $2.75, it could be $2.80.  Watch volume closely as it will be your first sign that a crest may happen.  Be sensitive to the fact that the company has the subscriber aces up its sleeve.  That news can create a pop in very short order.  Remember, please give me some input on how this is all working for you.  We want to provide the service you want and need.